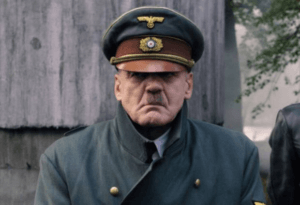 Bruno Ganz, the Swiss actor who helped give the world it's first serious German-language portrayal of the last days of Adolf Hitler on film and an enduring internet meme, has died at age 77.
Thanks to the "Hitler finds out about X…"parodies that populate YouTube, Ganz's turn in Der Untergang (The Downfall, 2004) has probably made him the most known "unknown" in the English-speaking world. He had a 50-year career in cinema but he made very few films for Hollywood.
His most famous work was probably Der Himmel über Berlin (The Heaven Over Berlin, 1987) released in the US as Wings of Desire. Ganz plays one of two angels whose job it is to watch over the divided city, when he falls in love with a human woman and longs to become mortal himself. (Peter Falk plays himself in the movie, that is, if Peter Falk was really an angel who made the transition to mortality himself.)
As an angel or the Devil himself, Ganz had a helluva run.