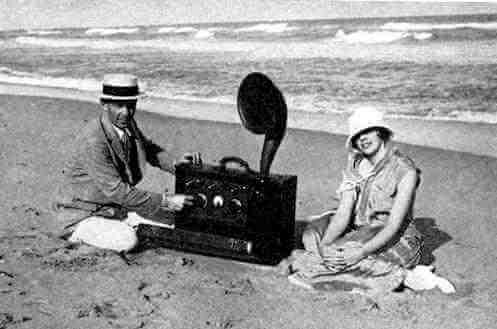 Yesterday, @richardeaston wrote a post Affirmative Action in Inventions in which he noted that in recent years a black female, Dr. Gladys West, has been given credit for inventions associated with GPS for which the credit belongs to others. I was going to comment on Richard's post; but, my comment got too long and I think this post can stand on its own.
Unfortunately, I don't think what Richard found is a one-off honest mistake. Rather, there appears to be a concerted effort to overstate the accomplishments of black Americans in some fields. This becomes apparent when searching various terms using the most popular Internet search engine: Google. For example, searching the term "American Inventors" gives the following result.
The top 20 American Inventors according to Google;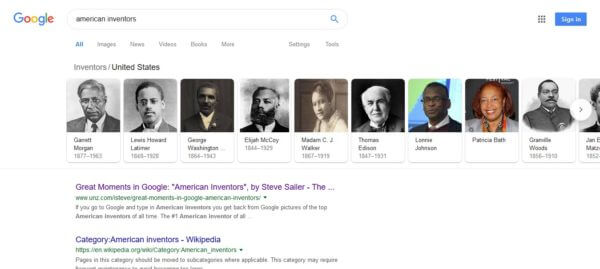 According to Google, the top 20 American inventors include seventeen African-Americans plus Thomas Edison (sixth place), Alexander Graham Bell (12th place) and Eli Whitney (20th place). The list is headed by Garrett Morgan whose most notable invention was a smoke hood. Lonnie Johnson (seventh on the list) is most noted as the inventor of the Super Soaker water gun. This is not meant to demean Mr. Johnson (who seems an impressive fellow based on his Wikipedia bio) or any of the other African-Americans on the list; but, the Super Soaker water gun is not as meaningful an invention as the electric telegraph, the airplane or thousands of other inventions by Americans. All of the people on the list are accomplished individuals who made positive contributions to the world. They just don't belong on such a list.
The "American Inventors" list based on a Bing search is a little less biased.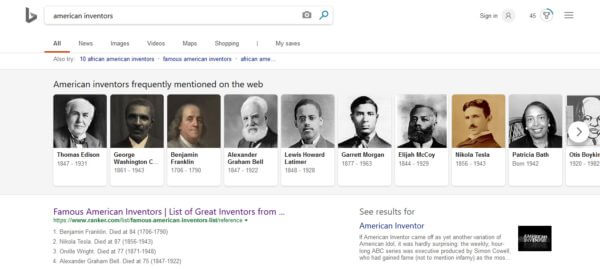 The top twenty American inventors is headed by Thomas Edison, which is good. However, the remaining nineteen includes eleven African-Americans plus Benjamin Franklin (third), Alexander Graham Bell (fourth), Nikola Tesla (eighth), Eli Whitney (14th), Samuel Morse (16th), George Eastman (18th), Steve Jobs (19th), and Robert Fulton (20th).
This same sort of political correctness seems to occur in only some selected fields, and in all cases Google is the worst offender. Below is Google's result for "American Mathematicians:"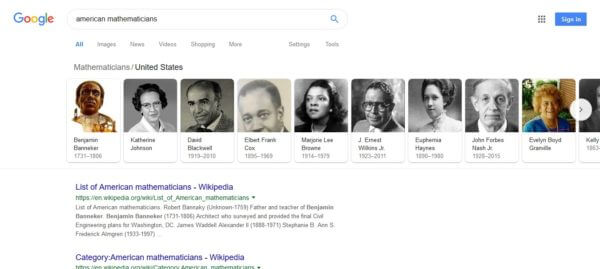 The list of the top 20 American mathematicians includes thirteen African-Americans plus John Nash (eigth), Albert Einstein (11th), Solomon Lefschetz (12th), John von Neuman (13th), Claude Sherman (14th), John Milnor (15th) and Claude Reason (17th).
Searching "American Scientists" on Google yields the following list:
This list consists of eleven African-Americans plus Albert Einstein (fifth), Enrico Fermi (eigth), James Watson (12th), Thomas Edison (14th), Alexander Graham Bell (16th), Carl Sagan (17th), Hans Bethe (18th), Richard Feynman (19th) and Dian Fossey (20th).
The Google lists drop most (but not all) of the political correctness once they leave the United States. Here's the Google list of British scientists: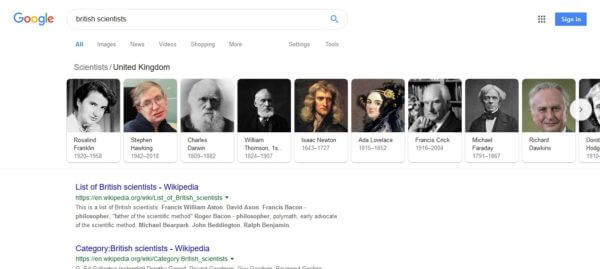 The list is far from perfect but it does at least include many who do belong on such a list. The same can be said for other fields outside of STEM. Here are Google's "American Economists" results:
Whatever one thinks of it, all of those on the list are or were serious economists (even Krugman was once a serious thinker before he became a partisan hack.)
And, here's the Google results for "American Painters";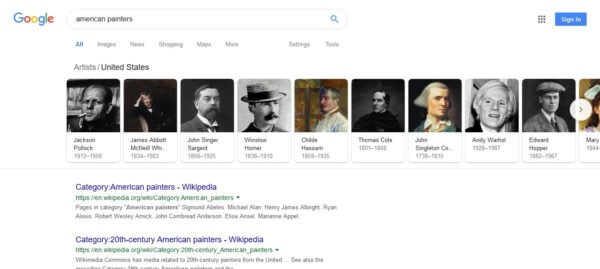 I have no comment on the list other than to note the type of political correctness that infected the STEM lists is not present.
I don't know exactly what to make of it. Somehow I think it has its origins in the ongoing campaign to turn K-12 education into political indoctrination a part of which is as I understand it that history books have quotas as to the amount of time that various groups (blacks, women and so forth) must be taught regardless of merit. Whatever the reason it does no favors to those who wish to learn history.
As I was writing this post I got to wondering what a list of the twenty or so most significant American inventors should look like. The list below is derived from Charles Murray's Human Accomplishment which was published 15 years ago. Murray's book is an exploration and study of human achievement in the arts and sciences across civilizations from 800 B.C. to 1950 A.D. Based on Murray's method this list works out as follows (I've included a very brief description of what each is most noted for);
Thomas Edison – polymath
Benjamin Franklin – polymath
Samuel Morse – electric telegraph
Orville & Wilbur Wright – airplane
John Mauchly – computers
Edwin Armstrong – radio
Robert Goddard – rocketry
Eli Whitney – cotton gin
George Westinghouse – A/C power distribution
Oliver Evans – the steam engine
Lee De Forest – triode vacuum tube
Joseph Henry – electromagnetism
Robert Fulton – steamboat
Edwin Land – photography
Charles Goodyear – vulcanized rubber
Henry Ford – assembly line, automobiles
Vannevar Bush – scientific administration
Herman Hollerith – data processing
William Kelly – steel
Thomas Midgley Jr. – chemical processing
William Shockley – semiconductors
Samuel Colt – firearms, interchangeable parts
George Eastman – photography
John Fitch – steamboat
John Hyatt – celluloid
Cyrus McCormick – mechanical reaper