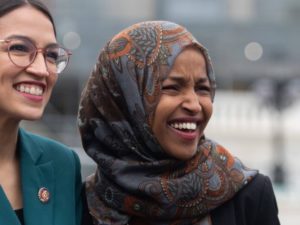 Brandon Darby has a target on his head from the Mexican cartels. Concealing his Second Amendment rights under his vest, he hides among some of the most dangerous people in the Western Hemisphere. With more than half of the 32 Mexican states being run by the cartels, Brandon, a father and family man, understands his life is on the line daily.
We just interviewed Brandon, who was at an undisclosed location on the southern border. Unfortunately, it was a phone call and only after the interview, we realized we didn't pick up his feed. Truly tragic as he discusses the reality at the border most of the media is missing.
He considers himself apolitical, saying he has disdain for both sides of the political aisle (Breitbart finances Brandon's Border and Cartel Chronicles Project where he is the Editor in Chief and Managing Director). Yet he wouldn't hold back his anger over how the Democrats are using the border debate for purely political motives. He believes their lack of action is resulting in rape, disease, and murder of innocents in both countries. We transcribed my introduction to the interview, which we hope to do again down the road.
We can't escape them. The complicit media are sensationalizing AOC and Ilhan Omar, stuffing them down America's throat daily, foie gras style.

Outside the beltway and twitter echo chambers, their presence on the national stage is wearing thin. With this new freshman class of neophytes, we find ourselves listening to debates on simple economics that most people learned in junior high (when they taught econ.) These debates ask Americans to reconsider almost 250 years of history by restructuring the constitution around their warped ideologies. Case in point; Immigration. Those of us who are paying attention know the Left's desires to shut down ICE and our border control are doing so for two reasons:

First, Orange Man Bad.

Orange Man Wants Wall.

Wall Bad.

And two, well… that's a lot more sinister.

Nancy Pelosi talks about the wall being immoral. Much of the media agrees with her. You can hear and see the way they color stories, such as the tear-gas mom that turned out to be fake.

As President Trump said at the state of the Union, not having a wall is immoral. Providing free health care, education, food, shelter, and legal rights, while having a border where anyone can cross not only incentivizes those to make the dangerous journey but makes a mockery of our laws. Advertising to the world the U.S. does not take border control seriously IS an incentive that ultimately leads to children being sexually assaulted and raped.

Yet the media have bought the emotional left's argument which perpetuates untruths about the border crisis. On the series of migrant caravans, the liberal media have stuck with their narrative, straight from the talking points of House Democrats. Democrats are famous for using Alinsky tactics of never letting a good crisis go to waste.

This is where the Left has gone full Cloward-Piven.

Illegal immigration is the perfect tool for this strategy. It's fairly straightforward as it has been implemented over the last few decades. We will import millions of illegal aliens into the country, it will eventually overwhelm a system that already cannot keep up with the demand for handouts while creating the need for a massive expansion of the federal government.

And now we are starting to see the results. If you've read your Cloward-Piven Strategy you know the end game is "a guaranteed annual income and thus an end to poverty."

"A guaranteed annual income," Gee I feel like I have heard that somewhere recently… I wonder if that will be provided for those unwilling to work too.

This is where the Left's pantomime is so sinister. This whole debate is about POWER. The current migrant caravan story is only the latest example. We've been in an illegal immigration crisis for decades, with tens of millions of people entering the country illegally. And to those who say it hasn't changed the country, well, they're trying to sell you something.

We had Victor Davis Hanson on the show some months ago and we discussed how the open borders policy has led to states flipping from red to blue. It's hard to believe that not all that long ago California had some great Republican Governors. Pete Wilson and way back, Ronald Reagan. Nevada has flipped. Arizona's latest favorite classic rock band is Deep Purple. Colorado has not only flipped but they are going full Daily Kos. There is a bill floating up in the CO legislature that will repeal the Electoral College. It will likely pass and along with other leftist states going along for the ride, we could see this end up at the Supreme Court in the next few election cycles.

So this isn't some conspiracy theory. It's happening now. It's been happening for over 30 years starting with Ronald Reagan who was bamboozled by Tip O'Neal and Teddy Kennedy. Let's set a precedent for amnesty, they said. Let anyone in, they said. The more people need government, the bigger the government gets. We can sharpen our pencils and make the voters think we're concerned about border security every few years when an election is upcoming. Gang of Eight, your table's waiting.

This faux debate isn't a debate. It's strategery. Open borders invite illegal immigration. And who are illegal immigrants? Typically they're people who have nothing. They probably don't speak the language. They likely don't have jobs or support systems ready. So many become wards of the state. Have you noticed there are more and more immigrant families at the supermarkets looking at their EBT checks trying to decide what to buy for their kids?

And don't @ me. We are talking about illegal immigration. I'm an immigrant that waited in the long line and took 12 years to become naturalized.

This mess is exactly what Canada's, Australia's and yes, even Mexico's immigration system prevents. You cannot just walk into those countries without ending up in jail and then deported. They have a meritocracy. If you heard my recent talk with Brian Roberts, the liberal television Director, it's bloody hard to emigrate to Canada. They need bank statements, employment history, assets and you still may not get in.

But in America, Democrats bribe illegal immigrants with promises of healthcare, education, food stamps, etc. When I get a $30,000 bill for taking my son to the emergency room, how much of that is to cover the illegal's that don't pay a dime? They create dependents. So now you have a whole new class of Democrat voters that will be with them for life. This is why the new push from the Left is for illegal's (or undocumented's) to vote.

The Washington Examiner had a recent study that shows that 63 percent of non-citizens are on some kind of welfare program. 70 percent of non-citizens who have been in the country for longer than 10 years are on a welfare program.

Meanwhile, the country has $22 trillion dollars of debt. Middle-class parents can't afford college for their kids and are quickly being priced out of health care. Yet these nouveau intellectual know-nothing children, like Ocasio Cortez and Ilhan Omar, are pushing socialist ideas that their constituents like, that will tax you even more. Of course we then end up with the Socialism paradox; Eventually, you run out of other peoples money.

The new batch of politicians who the media love stuffing down our throats as if these kids have some monopoly on economic wisdom, says more about our media and education system than it does about those particular new congress members.

It's not that we don't know that a know-nothing bartender from Queens or an anti-semitic, brother-marrying Somalian is that dumb. Sure they may know how to tweet… but boy are they dense. But, I don't blame them for they are just the recipients of a strange new electronic hype machine that is turning our politics on its ear. Social media. Could these brainiacs have been elected before the dawn of the interwebs?

Their biggest challenge (and ours) is they aren't smart enough to know what they don't know.

I blame their teachers, the fast food media and ultimately the low information voters in their districts who went to the same schools, watch the same inane drivel on prime time tv and didn't vet their representatives. Many of whom are the recipients of the government largesse AOC and Nancy Pelosi wants more of. So they will vote for more treats.

But now, at least for this term in Congress, we are stuck with them and their emotional outbursts, twitter rants and blatant untruths about this President, all in the name of "compassion." They have the media carrying their bankrupt economics to unsophisticated voters: As long as the Orange Man is in office, we will double down and become a doormat for the rest of the worlds poor.

If you disagree with them, the know-nothings will shout you're a monster who wants to pull babies away from their weeping mothers.

It's just too bad they don't feel that way when the baby is 39 weeks in the womb.