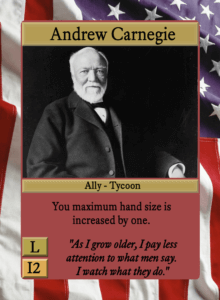 Let me start by telling you a story. Mr. @MattBalzer and I, we make board games. One of these games we call the Presidential Rumble. You play as one of history's greatest presidents in the midst of a knock-down drag-out election against each other, marshaling characters from the past and laying claim to the symbols of liberty. You get some pretty great things going on; in one game Martin Luther King Jr. named Frank Sinatra to the Supreme Court. In another, Joe McCarthy declared Tecumseh to be a communist. You'll frequently see the FBI confiscate the Constitution as evidence or the EPA declare the Statue of Liberty to be polluting and destroy it.
I've printed up several prototypes too. There's a company out of Madison, WI called The Game Crafter that specializes in this sort of thing. They've got a pretty good racket; there are a lot more people who want to make board games then there are people who will make a living that way. The Game Crafter will professionally print and assemble single copies of a game, so you can get your idea produced even if your only customer is your mother. Really I've had excellent experiences with them, excepting one thing.
The last time I tried printing up a copy of my game they flat out refused because my game was referencing real people I may have been legally infringing on their personality rights. Up until that point I hadn't heard of such a thing, but five minutes on the internet brings up the Wisconsin statue (they and I operate out of WI, so Wisconsin law should be good enough for the both of us.) The law prohibits:
The use, for advertising purposes or for purposes of trade, of the name, portrait or picture of any living person, without having first obtained the written consent of the person or, if the person is a minor, of his or her parent or guardian.
Okay, I don't have John Hancock's John Hancock stating that I can use him in my game. On the other hand, the guy's been dead for a couple hundred years. Shouldn't the law only apply to living persons like the black-and-white text says? Simply for game design I had already decided I didn't want living people represented in the game. I don't want real life political arguments to spill over into the entertainment. Trying to negotiate, I offered to abide by California's (always an innovator in the field of kookiness) life + 70 standard, but no dice. I couldn't even get them to agree that George Washington could be a character in a game.
The problem I'm having here isn't the question of whether or not I was doing something illegal. The problem I have is not knowing. I can read the plain text of the law and say that what I was doing was legal. That doesn't matter. Anything close to the edge of what the law allows also allows a lawyer to swoop in and sue you. Assuming they don't win you're still out a tremendous amount of time, money, and aggravation to fight it off. It's a high stakes game of chicken, and the winning strategy is to preemptively concede the field.
If the law says it's one thing, but then, in reality, is something beyond that, then what exactly is the real law? Imagine a courtroom with a mafia don on trial; he's bought the judge, the jury, the whole works. Is that justice? Obviously not. It's got all the trappings of justice though; the court, the officials, the jury, they're all the people who are supposed to decide matters of justice. Let's take it one step further. Let's say that on one side of a court case you've got a stumble-mouthed idiot, and on the other side you've got an insider who knows all the tricks, every jot and tittle that might get him an advantage. Is that justice?
The court seems to think it isn't. That line in the Miranda rights about having a right to an attorney. But what if that didn't just apply to a courtroom? What if you lived in a society of lawyers, with lawyers staffing all the legislatures, writing laws that other lawyers will argue the meaning of in front of courts judged by lawyers? What if the law-as-written is also hedged in by a horribly complex Talmud of precedent, which can only be expounded by experts? What if every action you take or fail to take is governed by these arcane minutiae, such that anyone at all with sufficient malice could assault you through the courts, and the only defense you'd have against them is your own team of lawyers?
What if none of that is a hypothetical. Take a moment and reckon about that Supreme Court case. It's a full-employment scheme for lawyers enacted by a court reviewing the decisions of other courts, and it has all the force of a Constitutional Amendment because of a previous decision by another Supreme Court. Say what you will about the rightness of the decision, there's nothing in there that even smells like a check or a balance.
The phrase "The Rule of Law" sets itself up in opposition to "The Rule of Men". But we don't have the Rule of Law. We have the Rule of Lawyers, who rule us not with the Divine Right claimed by a King, but by being better at manipulating the system they set up.