Some booze is best served in a saucer, in the garden, as slug bait. Other alcoholic beverages are best served at particular temperatures, in particular glassware, revealing their full palette of flavors. Then there is booze that could be better, and therein lies today's tale.
Whilst serving deep in the heart of Texas, I happened upon Ranger Creek, a "brewstillery." This neologism denotes a craft brewery that also has a license to distill alcohol. The brewery piece is a source of steady income, with quick conversion of ingredients into beer ready to be poured. The distillery side can be as efficient, or even more so, if you stick to un-aged clear spirits: vodka, gin, white whiskey, white rum, blanco tequila.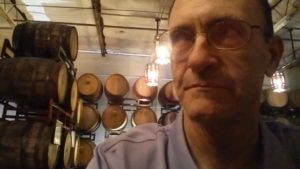 The moment you venture into whiskeys, whether you call them whiskey, rye, Scotch, or bourbon, the rules change. All of these require years of aging in oak barrels. Indeed, bourbon may not be sold as such without at least 2 years of barrel aging. So, if you want to get into the whiskey making business, you are committing to a minimum of two years lag time, two years of illiquid liquid inventory. 
Ranger Creek found a mitigation strategy. In addition to steady income from beer, the distillery portion of the business was jump-started by small-barrel aging. The smaller the barrel, the more surface area, relative to volume of liquid. The more surface area, relative to volume of liquid, the faster acting the "aging" process. So, Ranger Creek was able to bottle and sell small batch small barrel whiskey "in the style of" the three recipes being slowly aged in the big barrels. 
Along with beer—which had the same ingredients as whiskey, plus hops—and the small barrel whiskey batches, they offered 750 ml bottles of un-aged, white whiskey. This got me thinking. Could I turn white whiskey into a drinkable aged whiskey?
A little poking around the internet revealed that I could get a 2 liter charred oak barrel, shipped from the Texas side in the Rio Grande Valley. The barrel arrived at my temporary Texas address with clear instructions. Fill it up with warm water and set it in a sink or container where it can leak until the staves swell up and seal themselves. The barrel was properly constructed and did seal itself after two days. I rinsed the barrel thoroughly of wood chips, then poured in the white whiskey from Ranger Creek.
Now, the instructions gave a range of weeks per barrel size. I made the mistake of waiting 4 weeks, the maximum recommended for the 2 liter barrel. When I decanted the whiskey into bottles, it was very oaky, a bitter, biting, "hot" flavor. However, cutting the booze, with 1 part water to 5 parts whiskey, smoothed out the flavor nicely and resulted in a very drinkable product.
Encouraged, I decided to take it to the next level. Many whiskey makers age their product in barrels previously used for other spirits, adding some of that other spirit's flavor profile to the whiskey. I decided to fill the barrel with a jug of cheap but drinkable port.
The immediate result was supposed to be an improved port. I am not a regular drinker of port, so am no expert. I did not notice a significant improvement after 4 weeks, but the barrel aging at least did no harm. This second run was noticeably less aggressive than the first use, as the barrel's char was slowly being worn down.
The next run of white whiskey was excellent, in the neighborhood of a middle shelf professionally produced whiskey. It was reminiscent of some Scotch whiskeys. This took 5 weeks, so you can see a trend in the barrel aging effectiveness.
The barrel sat empty for a while, so I had to rewet the staves. They sealed back up nicely in a day. Then I went for something different.
Years before, I had been introduced to a great extra anejo tequila. This style of tequila is aged three years in oak barrels, like bourbon, so picks up flavor that is much smoother, to my taste than the clear, blanco tequila. The first such tequila I had sampled in a Mexican restaurant was aged in bourbon barrels, so that had me thinking.
My experiment turned out well, yielding a small barrel equivalent of extra anejo, with the port and whiskey traces deep in the barrel surface nicely mellowing the blanco tequila into an amber colored, refined spirit. I made one more batch, taking 6 weeks to get results, then retired the barrel. It made a fine addition to a back yard fire pit, the fragrant, infused oak smoke wafting up in the desert night.
If you do not partake, or do not care to fiddle with making better booze, the same barrels are sold and used to age vinegars. That is a story someone else can tell.