For Black History Month, I was asked to research the first black woman Ob/Gyn in the US and to talk about her at this morning's service. Little did I realize what I would find. 
I found her, at least the first one to have board certification. I gave this presentation (here edited down a bit) at this morning's service.
She was Helen Octavia Dickens.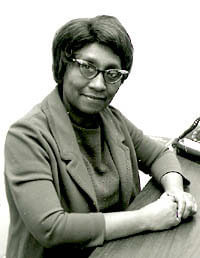 Born in Dayton, OH in 1909, her father had been enslaved as a child, was liberated and raised as a son by a Union officer. He studied law but worked as a custodian, due to Northern prejudice. Her Mom worked as a domestic.
Her parents insisted that Helen receive a good education. She attended an integrated high school, then the University of Illinois.
Helen was the first black woman student at the University of Illinois School of Medicine, graduating in 1934. After an internship in Chicago, she moved to Philadelphia, practicing in difficult circumstances in a poor neighborhood. One night she came to attend a laboring woman only to find that there was no electricity. She moved the woman's bed to the window to conduct the delivery by streetlight. Such experiences led Dr Dickens to place four birthing beds into a row house, creating a small childbirth center.
Faithful to her mission and un-intimidated by predominantly white institutions, she pursued an advanced degree at the University of Pennsylvania's Graduate School of Medicine.
In 1943, she married Purvis Henderson, also a Penn resident. They moved to New York where Helen studied gynecologic surgery at Harlem Hospital. In 1945 she received her Master of Science from Penn. In 1946 she completed her surgical training and was the first black physician certified by the American Association of Obstetricians and Gynecologists. In 1950, she became the first black woman member of the American College of Surgeons.
Returning to Penn, she rose through the ranks from instructor to full professor. When Pap smears and mammography became known, she opened cancer detection programs in poor areas of Philadelphia. She taught also at Medical College of Pennsylvania and at other Philadelphia hospitals.
In 1967 Dr Dickens founded Penn's "Teen Clinic", providing contraception, counseling and prenatal care to adolescent women. In 1969, she became dean of minority admissions at Penn; in five years the number of black medical students at Penn grew from three to 64.
She retired as professor emeritus in 1985, receiving many awards, including the AMA's Medical Woman of the Year.
While I was in training at Penn I worked at the Teen Clinic from 1987-88, just missing the chance to learn from this legendary physician. I met Dr Dickens at our graduation in 1989.
In 1999, Penn rebuilt the Teen Clinic, naming it The Helen O. Dickens Center for Women's Health, honoring her fifty years "dedicated to healing, helping, and guiding." Helen's legacy provides care to women of all ages without regard for their ability to pay.
Helen died in 2001, aged 92. Her daughter Dr. Jayne Henderson Brown followed in Helen's footsteps and practices medicine in Philadelphia.
In Helen Dickens' story we see the "arc of the moral universe bending toward justice" as God's love passes through the generations. Helen's father was born into slavery in 1855, but the kindness of a Union soldier led to that lad's daughter becoming a pioneering physician, providing specialty care to under-served women. When I shook her hand in 1989, Dr Dickens was an emeritus professor at one of our finest medical schools.
It is a privilege to live in a country that has such women in it.
Thank you, Dr Dickens.
Can you believe this? 
A family goes from enslavement to Emeritus Professor at an Ivy League medical school in ONE GENERATION. And I worked in her clinic, without knowing her story, and I met her. I talked to a woman whose father was a slave and who herself had to fight prejudice, but who rose to the highest echelons of academia. And I didn't know her astonishing history until doing my research last week.
Don't tell me that this is a racist nation.
And be aware that there are heroes all among us, every day, in every state. We may not see them, but they are there.
By the way, our congregation loved the presentation. There is a very broad conservative streak in middle class Black culture. We dishonor American blacks by ignoring it.
Published in General