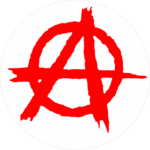 One of the great myths I hear from people who believe in a utopia is that things like Communist, Socialist, and, yes, Anarcho-Capitalist (AnCap) societies "Have never been tried". This is, of course, nonsense. The USSR, China, Venezuela, Romania, Cambodia, and countless other nations give lie to the idea that a Communist Socialist society has not been tried. Dr. Jordan Peterson says it well here:
I really like his point, that this is an arrogant position: If I were in charge, I am so good and so competent I could usher in the utopia. I apply it to anyone making any utopian claims.
That brings us to the anarcho-capitalists, and the claim that their version of utopia has never been tried, either. This is also nonsense. We have seen, time and again in history, that when there is no state, there is not anarchy for long.
"Anarchy is the least stable of social structures. It falls apart at a touch." — Larry Niven
What made me think about all this is this article today, on the death of an AnCap promoter: John Galton Wanted Libertarian Paradise in 'Anarchapulco.' He Got Bullets Instead
Galton and Forester were anarcho-capitalists who slipped U.S. drug charges worth 25 years in prison, they said in a YouTube video that night. They'd hopped the border and resettled in what Galton called one of the world's "pockets of freedom," a community billed as a libertarian paradise.

Almost two years later, Galton was murdered.

Last week, gunmen burst into the couple's mountaintop home, killing Galton on the spot, and seriously wounding one of the couple's friends. (Forester survived, badly shaken.) The killers are presumed to be a drug cartel; Mexican authorities say Galton grew marijuana at the home
Wow. In the absence of a strong government, a gang burst into his home and killed him.
Galton was part of a small community of fellow anarcho-capitalists formed by Jeff Berwick, who promised a drug-friendly haven and hosts the annual "Anarchapulco" festival. Berwick says Galton and Forester should've known what they were getting into.

"They started up a competing conference to Anarchapulco, called Anarchaforko and John continued to be involved in one way or another with the production or sale of plants," Berwick told The Daily Beast in an email. "Unfortunately, that is the one thing that is very dangerous to do in Mexico as the drug cartels will attack anyone they see as competition and that appears to have happened to John."
So, even in the AnCap utopia, you cannot grow weed in your own home and you cannot sell it because some other group, one with more guns, will come kill you. And there is no government to even punish them for it. I guess this really does mean might makes right in the AnCap world.
This whole story demonstrates, once again, that any real moves towards a libertarian AnCap utopia will always collapse into what I call "Warlordism": He who has the biggest guns, wins.
Anarcho-capitalists who complained of robberies or street corner assaults faced ridicule, Mike claimed.

"Because this is a very ideological group, everything Jeff says is dogma," he said. "If you said anything contra to the dogma, you'd be ostracized and in some cases doxxed. I know people who moved there and got robbed… However, when they publicly state this, the whole community turns against them and treats them as some kind of informant or spy."
Heh. Cultish following of a leader. Not like communism or socialism at all, right? I love the way it closes:
"Anarchists understand that the government's prohibition of plants and substances cause these problems and if anything it just makes events like Anarchapulco even more important in order to change the world and get rid of the violence and chaos caused by government," Berwick said.
Blaming the government for everything is just like the socialists blaming racism for every ill under the sun. With no government, do we really think organized crime gangs would stop doing what they are doing? The price would drop? Somehow, I think the would just go into "legit" business, and their anti-competition behavior would go right on. No government to stop them. Heck, the one in Mexico right now is so weak it cannot.
Utopia is not coming to this world, not for communists, not for socialists, and not for AnCaps. Any attempt to create a utopia will always result in tyranny. Always.
Published in Economics