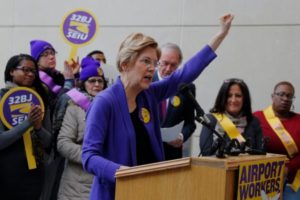 Sen. Elizabeth Warren says she wants "billionaires to stop being freeloaders." It's a statement akin to the idea that billionaires need to "give back" to society. Which is not how I immediately think about the wealth inequality issue. Surely Microsoft co-founder Bill Gates didn't begin to "give back" or generate value for society only when he began "giving back" via the Gates Foundation to boost education and reduce global poverty. Society benefited from his role in revolutionizing home computing, generating massive wealth for retirement plans everywhere, and creating hundreds of thousands of jobs over the decades.
Oh, and Gates became superrich in the process. And he should pay taxes. Lots of them. Does he or other wealthy Americans pay anywhere near enough? Warren and many Democrats don't seem to think so, (although paying for new spending does seem to be the primary concern here). Thus the talk of a wealth tax or a higher top income tax rate. There's less talk on the left, however, of possible tradeoffs from such ideas. A wealth tax would certainly be a theoretically powerful — though difficult to administer and possibly unconstitutional — way to break up or diminish concentrated wealth. (Many nations that have tried them have since abandoned them.) But there is another side of the story. My AEI colleague Alan Viard notes that wealth taxes of the sort Warren advocates "would be a drain on the pool of American savings, [which] finance the business investment that in turn drives future growth of the economy and living standards of workers." Something to consider at a time when the American economy faces historically low economic growth due to demographics and low productivity.
Another thing to consider: Most of the value created by entrepreneurial innovation isn't captured by the entrepreneur. And that's under the current tax system. In the 2004 paper "Schumpeterian Profits in the American Economy: Theory and Measurement," 2018 Nobel laureate William Nordhaus concludes "that only a minuscule fraction of the social returns from technological advances over the 1948-2001 period was captured by producers, indicating that most of the benefits of technological change are passed on to consumers rather than captured by producers."
And what do stats about concentrated wealth really tell you about the rest of a society? If the only econ stat you knew about a nation was X percent owned x percent of the wealth, what else could you accurately conclude? For instance: The egalitarian Nordic nations have as many billionaires, relatively, as the US and more concentrated wealth, at least as measured by the share of wealth controlled by the top 10 percent. And while they have higher income taxes, they also have lower corporate taxes and no or minimal wealth taxes. What's more, the Nordic nations have valued-added taxes as do other big spending advanced economies. It would be wrong to assume poverty in America — down dramatically in recent decades, by the way — is caused by the existence of billionaires, although some on the left seem to draw just such a connection. Indeed, what would we say about the vitality and dynamism of a society that wasn't producing lots of rich people getting that way through entrepreneurship and business (as opposed to government largesse and cronyism)? As the 2018 Credit Suisse global wealth report notes, "The number of millionaires in a country and its trend over time is often seen as a sign of a country's economic health and its ability to generate opportunities for wealth creation."
So what is the point here of the eagerness to increase taxation of the wealthy and superwealthy? An impractical wealth tax is unserious signaling, although it packs more political punch than economically efficient potential alternatives such as consumption taxes (which could also deal with the political power aspect of concentrated wealth, as would making government less intrusive) or raising capital gains taxes and lowering corporate taxes.