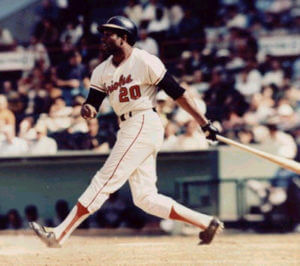 Baseball great Frank Robinson passed away on Thursday at the age of 83.
Robinson was a star athlete at McClymonds High School in Oakland, California. And he was not the only star athlete at the school. One of his teammates on the basketball team was Bill Russell, while on the baseball diamond at McClymonds and at the local American Legion Post his teammates included Vada Pinson (a lifelong friend who would also be his teammate with Cincinnati) and Curt Flood. At McClymonds, he was coached by a local legend, George Powles, who was seen as a mentor by many young men.
After High School, he signed a contract to play professional baseball in the Cincinnati Reds organization. He made quick work of the minor leagues, joining the big club at age 20 in 1956. He hit the ground running, tying a record for most home runs hit by a rookie (38, since broken) en route to winning the Rookie of the Year award. He would continue as a star player for the Reds for the next decade, impressing with both his results and his hard-nosed style of play (no player slid into second base harder to break up a double play and he crowded the plate daring pitchers to throw inside resulting in his leading the league in hit by pitches seven times). He would win the NL Most Valuable Player award in 1961 as he led the Reds to the pennant with a .323, 37 HR, 124 RBI line (Cincinnati would lose the World Series to the Yankees). He probably had an even better season in 1962 (.342, 39 HR, 136 RBI and leading the league in slugging percentage for the third consecutive season).
After the 1965 season, Robinson was involved in one of the most famous (and most lopsided) trades in history. He was traded to the Baltimore Orioles in exchange for pitchers Milt Pappas, Jack Baldschun and journeyman outfielder Dick Simpson. Reds owner Bill DeWitt justified the trade by asserting that Robinson was"…not a young 30." Robinson would prove DeWitt wrong, leading the Orioles to the organization's second ever AL pennant and first World Championship winning both the traditional triple crown (.316, 49 HR 122 RBI) and the slash-stat triple crown (.316/.410/.637). His performance earned him his second MVP award and he became the first, and still only, player to win an MVP in each league. He continued his stellar play for the Orioles for another five seasons, helping the club to three consecutive post-seasons from 1969-71 in which the O's would claim three more AL pennants and another World Championship (1970 beating his former team — Cincinnati).
After 1971, he would be traded on an annual basis to any team looking for a big bat — moving to the Dodgers in 1972, the Angels in 1973 and the Indians in 1974. After the 1974 season, the Indians named him their player-manager for 1975. He thus became the first black manager in major league history. He would continue as a player-manager through the 1976 season after which he retired as a player at age 40. When he started his player-manager career in 1975, Robby looked to have a good chance of joining both the 3,000-hit club ( he was at 2,900) and the 600-homer club (he had 574). However, he concentrated on his managerial duties and put himself in the lineup in only 85 of the 324 games he managed in 1975-76. His career statistics are still impressive — 2,943 hits, 586 home runs, 5,373 total bases and so forth. For those so interested, here's a link to his statistical record at Baseball-Reference. His playing career was capped by his election to the Baseball Hall of Fame as soon as he was eligible in 1982 entering the Hall with his longtime Right Field rival Hank Aaron.
Robinson managed for 16 seasons in the majors: three years with Indians (1975-77), four years with the Giants (1981-84), four years with Orioles (1988-91) and five years with the Expos/Nationals (2002-06). He won a Manager of the Year award in 1989 when the Orioles improved by 33 games from 54-107 to 85-75. When he was named manager of the Giants he also became the first black manager in the National League. His overall record as a manager was 1065-1176 and he never managed a team into the post-season. Robinson was a Baseball Lifer, first as a player, then as a manager, and between and after his managerial gigs in various capacities in the Commissioner's Office and in the Orioles front office.
He is survived by his wife of 58 years, Barbara, and their two adult children.
Below is a brief video biography of Robby's playing career presented by the Baseball Hall of Fame.
Rest in peace.