There is no question that the rise of Donald Trump has created a schism on the right. I've certainly had my run-ins with folks here on Ricochet, most notably @garyrobbins and @georgetownsend. While I vehemently disagree with these gentlemen on a lot of things, arguing with them has had its benefits, namely that they have pushed me to constantly refine, redefine and clarify my beliefs.
In a recent lengthy back-and-forth they provided me with this question on the state of things in the post-Reagan era: Is Conservatism just an abstract utopian philosophy, the inverse of theoretical Communism, or is it an actual and practical mode of governing?
If it is an abstraction, this explains the Progressive Lite ways of the national GOP. They can give lip service to the ideal (especially when raising funds and campaigning) while still governing in opposition to those ideals simply because they are impractical.
Many here, including the aforementioned gentlemen, insist that Conservatism is indistinguishable, even 30 years after the fact, from Reaganism. Is it? Or has that been abandoned?
I have constantly issued the call to examine whether American conservatives are indeed committed to fulfilling Reagan's dream. To this end, I spent time rereading President Reagan's re-election platform. As in all political manifestos there are a lot of vague "we encourage this" and "we urge that" and a lot of "we embrace the idea of" platitudes that are not easily translated into specific political action. I have identified a list of 32 concrete actions that the Reagan Administration told Americans they wanted to accomplish in regards to domestic policy in a second term. (By all means, please read the document and see what I may have missed.)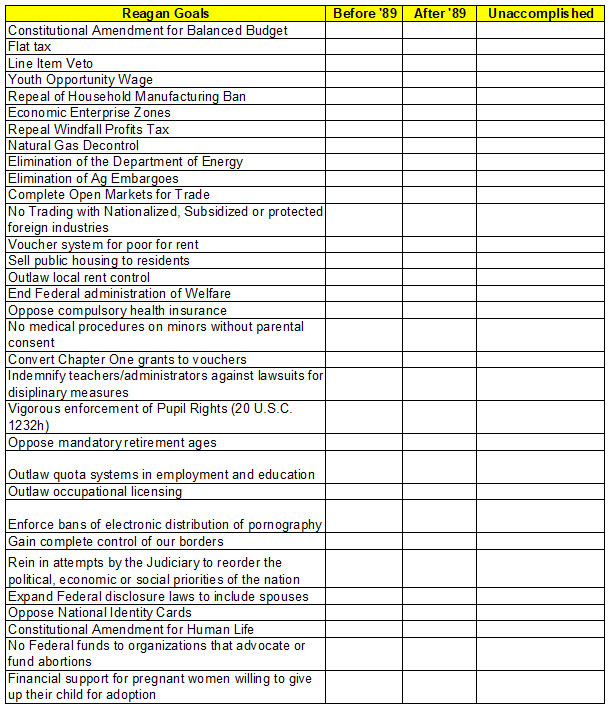 The third item on this list, the line-item veto, was accomplished yet struck down by the Supreme Court. It was asserted by the Court that it would be permissible if pursued through the amendment process.
Are these still goals of Conservatives or are they obsolete? And if they are obsolete what does it mean to call oneself a Reaganite in the 21st Century?
I fear that Conservatism has become nothing more than catchphrases, things said religiously by rote instead of through critical thinking. What does it mean to say "Government shouldn't pick winners and losers" without acknowledging that even policies advocated by Conservatives do just that? And how do you change things so that it no longer happens?
What does it mean to say, "Never blame your troubles on someone else?" Does that suppose that all government action, whether from the left or right, is benign? (I'd say that's just demonstrably wrong.) And isn't pointing to specific policy far different than the Left's ethereal bogeymen of racism, sexism, ageism, and a plethora of "phobias?"
If Conservatism is no longer a mode of governance but merely a theory, something that can only be accomplished in an ideal world then we need to re-exam it and ourselves, especially if the governing class is playing a giant game of bait-and-switch with the electorate. If we are to go forward Conservatism can't be a mile wide and an inch deep.