I guess you could only do this at a private school, but I'm still delighted to see it happening.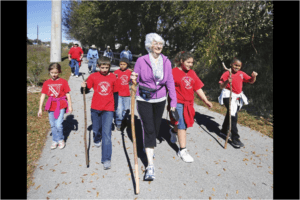 Elsa Huff, a teacher at First Methodist School in Bartow, FL is leading her 40th annual Israelite Walk on Friday. She will be walking with third through fifth graders on this journey. At the age of 72, she is inviting students, alumni and any other interested parties to join her and her students in this journey of 5 ½ miles, from Polk State College to her school.
She is commemorating the Israelites' 40 years of wandering in the desert, before they reached the promised land.
I celebrate her for her commitment to honor this historic time, which is foundational to the Judeo-Christian tradition.
It is one thing to commemorate a special time through study and prayer.
It is another to remember it through one's body and soul.
Thank you, Elsa Huff.