I have seen a few posts toxic masculinity and one about some males who could use a bit more toxicity, then I saw this…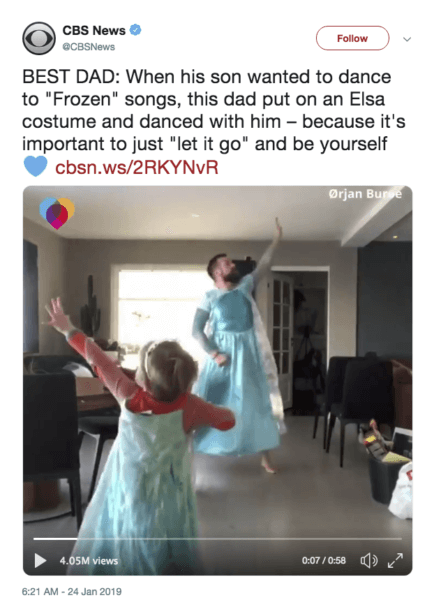 A few points about this Tweet:
1. A dad being silly with his kid is not a bad thing at all. In fact, the other day my wife was sitting on the couch folding laundry when I picked up a pair of my (clean) underwear and put it on my head. I then proceeded to try to have a discussion with my children. "Hey, I asked you a serious question and all you can do is point and laugh?!" Eventually the kids were laughing so hard they had tears running down their faces (they're an easy crowd). Now, I wouldn't take a video of myself or put any of that online (because my goal was have fun with the kids, not self-promotion), but I want to make clear that what I find odd about this tweet is not that the dad played dress-up with his son. They seem to be having fun. I do not see this as someone trying to encourage their kid to be a child drag queen so they can work the clubs and pose with naked men.

2. But then, why would CBS News see this as worth sharing? Do they just see it as a fun little video or are they interested in breaking down gender stereotypes?

3. They labeled this "Best Dad." Why is this better than a dad playing catch with his son, shooting hoops, going fishing, etc? Is this "Best" because they are wearing women's clothing? Are they promoting gender fluidity and intersectionality in an effort to be more woke? Do I honestly know, or care to know, what any of those words mean?

4. The kid wanted to dance so the dad went and put on his Elsa costume. Now when I was child, had I asked my father to dress up like a princess and prance around the room, assuming he didn't hit me and actually went along with it, we would have had a problem because my dad didn't own any princess costumes. Neither do I or any guys I know. Do most men have these things? Am I missing out on something?
Anyway, if you feel like the whole manhood thing is getting too toxic for you, Let it Go . . .
.