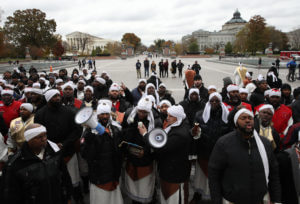 Saying that black Americans can't be racist because they are an oppressed group has never been acceptable to me. You only need to look at the history of the Black Hebrew Israelites to realize that racism against white people not only exists, but it is overt, ugly and frightening. This is the group that harassed the teenagers at the March for Life.
Glenn Beck did some research on the Black Hebrew Israelites group:
Chattanooga, Tennessee, 1886. A former railroad worker named Frank Cherry established the Church of the Living God, the Pillar and Ground of Truth for All Nations. Yes, that was the full church name. He mixed together elements of Judaism and Christianity and believed that African Americans were descendants of the original tribes of Israel. He preached that these Israelite ancestors were chased out of Babylon into central and western Africa, where they were eventually sold into slavery by the Romans. He preached that Adam, Eve, and Jesus were black. Cherry also preached that whites are inherently evil and hated by God.
The group doesn't have an official creed: some offshoots follow the Torah, others follow the Christian Bible. They are often seen on street corners preaching their beliefs. Due to the ugliness of the YouTube video, I'm posting the link here rather than embedding it in the post.
Joy Pullman describes them this way:
Hebrew Israelites practice a theology that says God's chosen ones — black, Hispanic and Native American people — have strayed and need to be led back to righteousness.

So they post up on street corners in big cities, usually in predominantly black communities, wearing flashy garb — purple shirts or black robes, for instance. They shout, use blunt and sometimes offensive language, and gamely engage in arguments aimed at drawing listeners near.
The New York Times tried to write an article with a "balanced view," including their conclusion that the rise in black hate groups is due to President Trump's presidency.
The Christian Apologetics and Research Ministry estimates that including the offshoots of the group, there are approximately 200,000 members.
The myth that blacks and other minorities cannot be racist must stop. Clearly, not all blacks are racist; I'd venture to say that most are not. Nor are they violent or hateful in their language. We are a country that supports free speech, and that should never be compromised—unless actual threats are made. Since the Black Hebrew Israelites have threatened to cut off people's heads and rape women, I think those threats qualify as racist. Even the Southern Poverty Law Center doesn't speak well of them:
 . . . while most 'Hebrew Israelites are neither explicitly racist nor anti-Semitic and do not advocate violence, there is a rising extremist sector within the Hebrew Israelite movement whose adherents believe that Jews are devilish impostors and who openly condemn whites as evil personified, deserving only death or slavery.'
Sounds pretty racist to me.