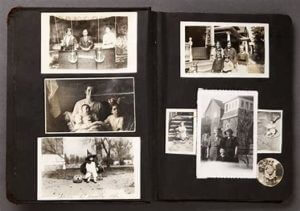 I started the New Year 2019, with goals — you know, the usual. Get in shape, eat better, exercise, and purge all the junk. By junk, I mean discarding old business info, tax returns, and loads of saved memorabilia. There is the dilemma. I have boxes and bags and volumes of family photos. I have the physical snapshots of a life. Mine. It will take time to sort through, and I am wondering how others deal with purging, organizing and passing on a lifetime of assorted collections?
I was looking at the photos I do have on display in my house. There's my dad as an MP at a check post in occupied Japan. There's two of my Uncle Al as a soldier before the ruins of a bombed out Germany. My aunt said my relatives went in later — they were young, when the war was wrapping up, as part of the rescue teams. My Uncle Bo was deployed to Italy during the reign of Mussolini – no pictures.
My much older cousin passed 19 months ago. My other cousin (her sister) and I speak regularly by phone now. Her voice has that melodic sound to me that is distinctive of a sweet memory — of a relative from childhood who when you hear it, reminds you of your heritage, your history. I love talking to her. Yet in our conversations, she tells me of things I did not know — disturbing things.
She tells me of a grandfather ( I never knew him) who was very abusive. He abused my grandmother and raised sons who were abusive. I don't remember my dad as anything but loving, but I believe her. The grandfather emigrated from the Ukraine, where both Russia and the Nazis created hell on earth, and they had to escape while leaving everything. I cannot judge. My aunt, my dad's only sister who became my guardian, was raised by this man. She had a philandering husband to boot but went on to marry a good man — an uncle who doted on me like a second father. He played ball for the Yankees and the Cubs, and she got to travel, and get away from the hellhole of her former life.
She chose to take me in and my dad, when he divorced, and eventually my sister, out of love. The Catholic Church refused to see her 12-month abusive first marriage as a reason for annulment and to recognize her second marriage. My uncle, a faithful Catholic went to Mass every week. But my aunt's heart was broken toward the church and rejected Catholicism. Even so, she taught me to pray at three, and to tie my shoes, and kept a vigil at my bed when I had bronchitis. She held my hand as she led me to my first day at kindergarten, and I never knew the abuse she lived with from a harsh father. I had a wonderful dad who gave us everything, including love. She took care of four brothers when my grandmother could not function.
Our history is one of hardship and love. It's also one of a better life in America. My birth mother's family fled Poland, and she and her siblings were dropped off at an orphanage. She had a rough life and had no parenting skills. I think it was a brief marriage, but there was no abortion — my sister and I are here, we got to live, because family members took us in and cared for us.
It's funny the things you remember – my aunt sang a lot, and she listened to the polka station in Pittsburgh. I would cringe and crank up Led Zeppelin. It was kin to her Polish and Ukrainian music, so when I hear it, I think of her, and her sacrifice for me. My husband will even find the Molly B – Polka Party channel and turn it for me and we watch it together, and he plays hard rock guitar!

She taught me to cook all the traditional foods, stuffed cabbage, pierogis, thumbprint cookies and rugelach at Christmas and Easter. She still honored all the Catholic holidays. I could not go outside and had to play indoors quietly on Good Friday until 3 PM. We had fish on Fridays. She taught my sister and me how to run a household on a shoestring — she was frugal. They lived through the Great Depression and WWII. She could make a delicious soup out of leftovers, a cake with no flour, and made recycling popular before there ever was the word. I never felt like we were deprived. Christmas was magical. I got fruit and nuts and small candies in my stocking like she did.
I also think about the history of my two families who fled communism, who fought against fascism and the Nazis, and lived to tell about it. Like many immigrants who started with nothing, they came by way of Ellis Island, the Statue of Liberty, and held their faith, family and the good parts of their lives together to pass on to their children, and nieces and nephews.
When I start to sort through the pictures that I want to send to my niece and nephew, and others, I know I will be flooded with emotions – of thanks from the sacrifice they made for me. America was never and will never be socialist, or worse. Those that come from countries where they promise equality for all and the government is everything know better, and they're trying to tell America. The remains of the Greatest Generation are leaving this world. New generations will make their mark. But has good and evil really changed that much?
Are you passing along more than pictures? How about history, family stories, diaries and journals, faith and struggles that produced who we are today? It's never been more important.