As President Trump crafts his strategy to continue his "promises made, promises kept" grand political strategy, he likely will advance an urban renewal initiative, aimed at key communities the Democratic Party relies upon for electoral success. In addition to assessing such an initiative on its political and moral worth, we should also be very careful about its bias toward bureaucrats or citizens. In Drug Dealing: Not a Victimless Crime, a story of a murder and a car driven into a Subway restaurant, I raised the issue of unintended consequences of urban planning. The would-be masters of the metropolis tell us that light rail makes, encourages development, makes people movement better, and improves communities. Yet, they do not talk about the government induced destruction of businesses, movement of vagrants and drug addicts, and associated harm to communities. I have seen both sides in the Valley of the Sun, prompting cautionary contemplation.
Preliminaries: Money and Style
Three years ago, Doug Watt wrote here about the way in which federal government subsidies distort local government thinking about the costs of light rail. Of course, the local government can spend itself into financial trouble chasing federal matching dollars. If you spend $1 billion in local tax dollars to get $1 billion in federal grants, you are still needing to show at least $1 billion in increased local public wealth. Not just any increase, mind you, but an increase that can be shown to have only happened because of the public spending. Otherwise, critics can fairly claim the city fathers squandered precious tax dollars that could have better spent on other things, including putting them back in working folk's pockets.
Beyond the basic return on investment question, why lock the dollars into steel rails, instead of the flexibility of a bus system, which can serve both the route contemplated for trains, really updated trolleys, and new routes, as populations and businesses shift locally and regionally? The positive answer is that trains are supposed to be higher class, cooler, than buses. It is argued that these trains are likely to attract riders, as Rachel Lu explained in Can Buses Ever Be Cool?
However, rideshare apps are cooler, and college kids are zipping around now on electric scooters, paying for their use per ride. The newest, coolest light rail quickly gets a bit worn internally, and the stops get grungy, like bus stops. So, claims of coolness and attracting the younger demographics are suspect.
Renovating or Destroying business?
In promoting light rail, local boosters tell us that it contributes to economic redevelopment, renovating depressed or vacant areas. Recently, the Arizona Republic promoted light rail, citing a series of claims about new development and redevelopment.
"Just go down the line from Mesa to Dunlap and 19th Avenue in Phoenix, and it's clear light rail has stimulated investment and redevelopment," said developer and planner Lorenzo Perez of Venue Projects, which built the Newton and Central Market near Camelback Road and Central Avenue.

"Light rail shows how Phoenix, a young city, has matured and evolved," he said. "It's been a game changer for many of the neighborhoods it runs through."
Likewise, the Chamber of Commerce made positive claims about light rail's economic effects:
[…] With wider access to the greater metropolitan area, employees and future employees will have more transportation options.

[…] The continued expansion of the light rail alleviates traffic congestion and creates efficient transportation for all Phoenix commuters.

Development of the light rail will also continue to positively impact the environment. […]

The extension of the Phoenix light rail into South Central Phoenix provides new transportation opportunities for commuters and job hunters throughout the Valley.
Notice, however, that there is no explanation of why buses, the other form of mass public transportation, do not provide the same benefits. Further, the linear area defined by the rail line started with the heart of three cities, so why would we not expect them to grow without the train line? At least the Arizona Republic gave some voice to family businesses who expected to be harmed or destroyed by the light rail project.
Celia Contreras owns a window-tinting shop that abuts Central Avenue. She lives in a small house connected to her business.

In front of the store is a fading sign that reads "Window Tinting Since 1995" and a new banner that says "SOUTH PHOENIX 4 LANES OR NO TRAIN" with a photo of a crossed-out light-rail train.

[…]

Contreras worries that the plan, which calls for taking away two lanes of traffic, will lead to a congested Central Avenue. When drivers realize this, she said, they'll take different routes and no longer frequent the shops along Central Avenue.

Owners of restaurants, retail stores, mortuaries and several other types of businesses have shared similar concerns with the Phoenix City Council.

Contreras said she believes the city wants the small businesses along Central Avenue to fail so the owners will sell the land to investors who will put in apartments and condos like the ones around the light rail in other areas.
Contreras' concerns are confirmed by what I saw as the light rail was extended through downtown Mesa. For many months, local businesses were almost locked away from customers by construction and road restrictions. Healthy businesses suffered and struggling businesses were shuttered.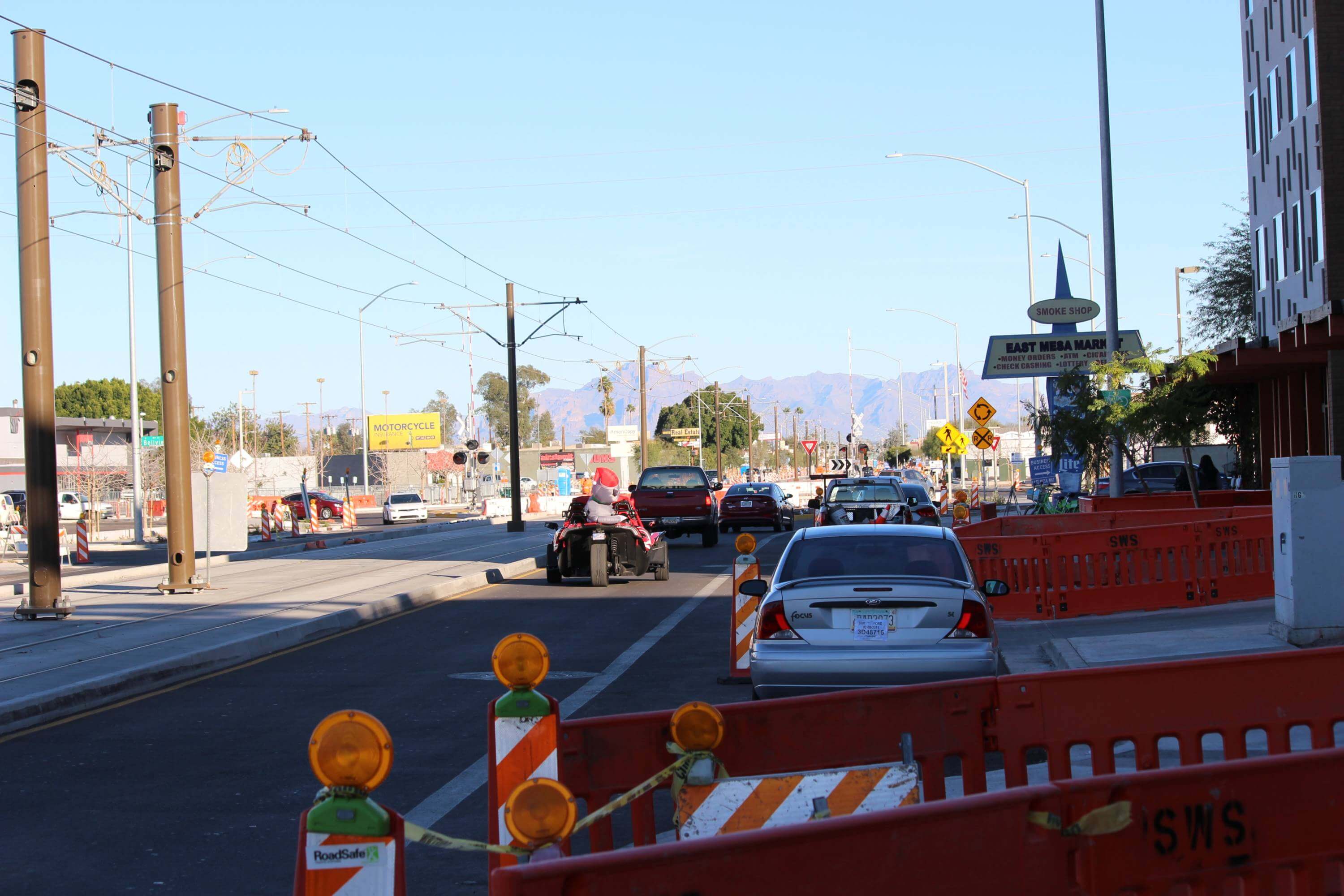 The harm done by the city governments is grudgingly acknowledged by symbolic and limited public promotion of local business, urging people who bother to look at the Valley Metro website to "shop local:"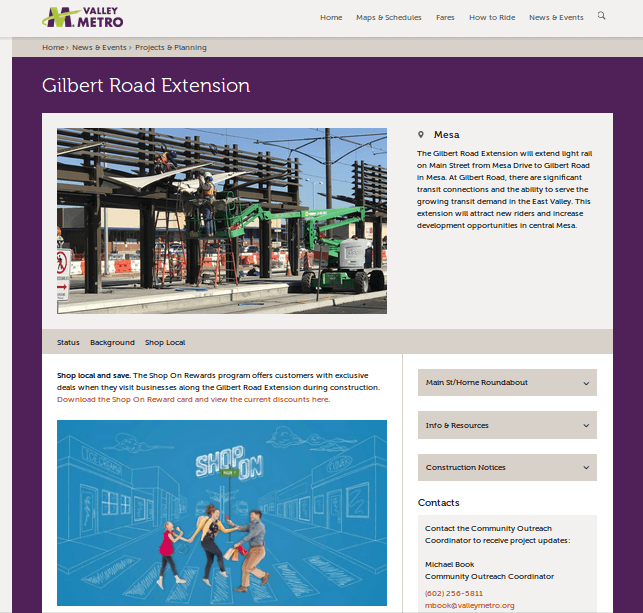 In order to keep motorists off the tracks, curbs are built on both sides. Running right down the middle of major existing roads, the rail line cuts off access to businesses. If you are driving along and see a sign across the street, you cannot get into a middle turn lane and enter the business parking lot. Instead, you must go to the next intersection, make a U-turn, and come back. Perhaps you will, but why bother, if you are not really determined to visit that particular business at that time?
Moving People or Problems?
Light rail proponents claim it reduces road congestion, increases mobility for employees, and meets Millennial transportation desires. Critics claim light rail does little to reduce congestion, has low usage, and is more important to local politicians than to the people they claim to serve. In addition, light rail, without a passenger-driver interaction, may act as a conveyor belt for drug addicts and homeless people, who dodge fares.
All public transportation schemes are claimed to reduce road congestion, moving large numbers of people without the footprint of individual vehicles. I witnessed this on evenings when I took the light rail home from Phoenix Sky Harbor Airport. The original section of tracks terminated in the east at free park and ride lots, and had stops within easy walking distance of both Arizona State University basketball and football arenas, and Diamondback and Phoenix Suns venues in downtown Phoenix. On game nights, the train cars were standing room only, full of people wearing team colors. You knew who won based on the volume: quiet cars meant a loss, boisterous passengers meant a win.
Catch the train to the airport on a weekday morning, and you see university students and employees, along with some airport employees, board from apartment clusters and bus transportation nodes. The same holds true later in the day for the afternoon commute. Surely this confirms the master planners' wisdom.
But, wait a minute, weren't there buses running the same route? Indeed, a simple scan of the route and stops reveals bus stops. Further, there are both local and express bus routes. So, any claim that the trains are vital to reducing congestion and improving mobility requires an explanation of why we should replace compressed natural gas-powered buses with electric powered trains. Yet, the best argument for this is "coolness" or the image of buses as lower status. That argument just cannot be openly stated by light rail boosters in local government and the chamber of commerce.
Outside of the peak hours and days, trains roll along mostly empty. Further, without a station barrier system and ticket-only entry, people are incentivized to jump on board, then duck the transit security patrols, exiting as they enter. The limited route, and time lost waiting for the next train, dictates a very low ticket price, which makes light rail less economically viable. True, applying wraps to train cars, turning them into rolling billboards, helps defray costs, but trains do not pay their own way, at least directly.
Lack of positive passenger control, through a gated, ticketed admission system, attracts people who have nowhere else to be, who nod off, and who are drifting from encampment to encampment like the hobos of old. Emergency medical services and police are a common sight around Valley Metro light rail stations, with people in various forms of medical distress or legal trouble.
Light rail lives up to its advocates' people moving claims in limited circumstances. There are persistent problems that were never openly acknowledged, debated, and mitigated in the process of planning and funding the system. The financial problem of fare-dodging was recognized but discounted as unavoidable if the system was to be rider friendly and attractive. The second order effect, facilitating vagrancy and drug abuse, was not acknowledged or mitigated. Openly acknowledging all the risks and openly debating mitigation strategies would have called the positive narrative into question, making passage of planners' visions more difficult.
Helping or Harming Communities?
Beyond businesses and commuters, light rail was sold as an anchor, an infrastructure base piece, in improving communities along the route. Part of the benefit to communities was to be job growth, claimed to be dependent upon a set of railroad tracks. Another benefit was supposed to be growth in new multi-unit housing, apartments, and condominiums, as part of a metropolitan lifestyle facilitated by jobs and public transportation. On the other hand, older low-income or fixed income communities, like small businesses, face destruction, not by the free market but by government decision. So, is light rail truly responsible or necessary for improving economically marginal communities?
Traveling along portions of the Valley Metro light rail system, near Arizona State University's main campus in Tempe, Arizona, you can see the rapid growth of apartment complexes. This supports light rail advocates' claims. On the other hand, look at the explosion in pay-per-ride bicycles, followed by electric scooters, and you see the claimed target audience choosing freedom of movement. Consider that buses run on the same roads. Then, get to the fundamental problem: growth based on the peak of the education bubble.
The education bubble is beyond this immediate discussion, but planners, politicians, and voters should be acutely aware of the parallels between the housing bubble of a decade ago and today's college education bubble. If student loans and debt are unsustainable, then so are university budgets and growth of direct and indirect college employment and business. To the extent that light rail is designed to further the growth around a perpetually growing college economy, it is contributing to a large, long term problem, while urban planning advocates cheer.
Move beyond the area close to the university, go beyond related housing growth, and consider the claims about urban housing renovation. The Arizona Republic story cited figures about the construction of low-income housing. This sounds like a good thing, improving living conditions for some of the poor. Yet, the same article documented the loss of small trailer parks, in which people had lived for many years. So, is this really a case of "broken window" economic thinking?
The "broken window" economic claim is distinct from the "broken window" theory of policing. The idea is that if someone smashes a window, that causes spending on a new window, gives work to a glass installer, and generates the creation of new windows. Yet, critics say, the money spent on the smashed window was diverted from other planned or possible uses by a destructive act, so this is not really positive for the economy. A window was replaced instead of a new sign being created to grow business, for example.
Is light rail "breaking windows" and then being credited with window replacement? The dirty little secret, as with destruction of businesses, may be that this is the desired effect of the urban planners' master plan. It may be that the control and conformity of communities to a supposedly enlightened and progressive vision is part of the real point, masked to some degree.
Consider light rail as an example, a set of case studies, to carefully study. What lessons can be learned to prevent or mitigate destruction in the pursuit of urban renovation? At a minimum, the vision and the reality point to a need for loud, insistent, healthy skepticism about politicians' and experts claims for large public projects and programs.