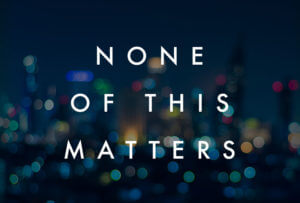 Another week, another dumb internet outrage. This time it was about the Covington kids. Before that, it was the fake news story and that celebrity who said the thing and a mean lady who yelled at a nice man and the bad man who was mean to the dog.
Each time, the usual suspects bellied up to their keyboards and rage-typed at each other until the next "scandal" made them type at different people. If you want to remain sane in the face of today's Outrage-Industrial Complex, I'll let you in on a secret: Twitter doesn't matter. The viral video doesn't matter. Our opinions don't matter. This article doesn't matter. None of this matters.
Conan O'Brien gets it. From a New York Times interview about his retooled talk show:
At this point in my career, I could go out with a grand, 21-gun salute, and climb into a rocket and the entire Supreme Court walks out and they jointly press a button, I'm shot up into the air and there's an explosion and it's orange and it spells, "Good night and God love." In this culture? Two years later, it's going to be, who's Conan? This is going to sound grim, but eventually, all our graves go unattended.

Interviewer: You're right. That does sound grim.

Sorry. Calvin Coolidge was a pretty popular president. I've been to his grave in Vermont. It has the presidential seal on it. Nobody was there.
He continues:
I had a great conversation with Albert Brooks once. When I met him for the first time, I was kind of stammering. I said, you make movies, they live on forever. I just do these late-night shows, they get lost, they're never seen again and who cares?

And he looked at me and he said, "What are you talking about? None of it matters."

None of it matters?

"No, that's the secret. In 1940, people said Clark Gable is the face of the 20th Century. Who [expletive] thinks about Clark Gable? It doesn't matter. You'll be forgotten. I'll be forgotten. We'll all be forgotten."

It's so funny because you'd think that would depress me. I was walking on air after that.
That quote went semi-viral when some people worried about the talk-show host. "Is Conan ok?" More ok than a lot of us.
Much of the current hysteria is fueled by people who don't get this. Some saw the first Covington video Saturday night, didn't catch a context, and moved on. Many other ill-known scribblers saw it and decided, inexplicably, that their opinion mattered. Hundreds of blue-checks needed — needed — to Issue Their Official Judgment on this non-story for inclusion in the annals of hot-take history. As if the rest of us mooks were slapping our refresh buttons, desperate to know what [insert journo with 13,172 followers] thought about a staredown between some teenager and an old dude.
I can pop off my opinions all day; hell, I'm paid to do it. Albert Brooks can make movies and Conan can entertain millions on late night. But none of it matters in the stretch.
What does matter is holding a damp towel to your sick kid's forehead and bringing in the groceries for your elderly neighbor and surprising your wife with take-out from that Vietnamese place she loves even though you hate fish sauce. Almost no one will notice it; certainly not the strangers who "follow" you online or the historians of the next age. These little acts still matter more than anything.
But Twitter, the internet … this? None of this matters.
---
This is part of Ricochet's Quote of the Day series. Join Ricochet and sign up for a day next month to create your post.