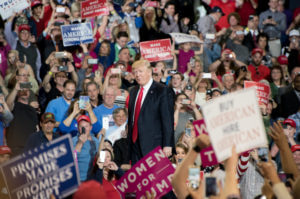 Donald Trump is so "unpresidential." So say his detractors, with a frown. And so say his admirers, with a smile. In 2020 the electorate will have its chance to be rid of Trump and return to politics as usual, which offers a straight-line path to further Leftist influence. I prefer to continue our experiment with this unusual leader who dares to agitate and excite the political world.
In the name of that experiment, I offer a brash recommendation: Mr. President, do not trouble yourself to mount a campaign in 2020. Just go about the day-to-day presidential duties incumbent on the chief executive. Continue to contain illegal immigration, curb regulatory overreach, reduce government spending and reform the bureaucracy. Continue to flummox our foreign adversaries and comfort our allies. Just be you.
The Trump re-election effort should not hew to the mold of every other politician. Rather, I urge an approach that underscores his brand of individuality. By keeping to his desk in the White House, he maintains his outsider status, the distinction of being the president like no other. I'm not advising he avoid the arena; he may oblige those Republican candidates for governorships or Congress who seek his support at their own rallies. But I am saying he should limit his availability because he is the "un-president," and voters for all practical purposes have made up their minds about him. He can stand on his record (which is still being written) and implicitly recognize there are few voters remaining to be won over.
If Trump is challenged in the primary season by his own party, he should simply dismiss any rivals as being disgruntled losers. If asked to debate, he should decline. Again, this is a tactic that can be justified on the grounds that he prefers to stand on his record. Otherwise a primary fight, producing the usual negative headlines, can only exacerbate the divisions within the GOP. 
Once he has secured the nomination, he should allow himself the pleasure of several debates with the Democratic challenger. These are the appearances that will matter, because he will stand in stark contrast to the Democratic nominee, who is likely to be a vessel of every PC leftwing value. Traditionally, the presidential debates are the most keenly anticipated events of the campaign season. If in the preceding months Trump has held no rallies or otherwise limited his speech-making, the anticipation will border on the feverish.
Such an atmosphere provides Trump a favorable opportunity to display the boldness that has become his hallmark. Let polarization reign.