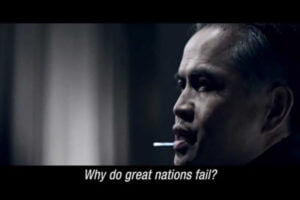 Recall the 2010 "Chinese Professor" television commercial from Citizens Against Government Waste. It depicted a futuristic Beijing classroom where students hear a triumphalist lecture on American decline. Despite (or maybe because of) its questionable economic substance, the ad really struck a nerve. (It currently has some 3 million YouTube views).
At the time, writer James Fallows called it the "first spot from this campaign season you can imagine people actually remembering a decade from now." And I think he was right about that, probably because "Chinese Professor" tapped into both pre-Trumpian concerns America was no longer great and that fast-growing China was ready to surpass the United States as global hegemon just at the US surpassed Great Britain. Indeed, that angst probably gave added resonance to President Trump's MAGA message, one that when he delivered it in the 1980s focused on Japan as the rising Asian threat.
Of course, Japan never quite got there although it remains a wealthy and technologically advanced nation. But what about China? It seems likely to play a massive role in much of American economic and foreign policy thinking even beyond the Trump presidency. But we need to be realistic about the many domestic challenges to its lofty aspirations. The Chinese certainly are. For instance, a new report from the Chinese Academy of Social Sciences highlights the downsides of the nation's slowing population growth and eventual decline a decade from now. The report says "China's negative population growth has become unstoppable" and that "the long-term population decline, especially with the aging of the aging, is bound to bring very unfavorable social and economic consequences."
Also likely to bring about "unfavorable social and economic consequences" is Beijing's move away from market capitalism in favor of surveillance state capitalism. Even with government's vast largess — such as the Made in China: 2025 plan and the associated AI effort — is China really creating an ecology conducive to broad, cutting-edge scientific research and technological innovation? The Economist, in a piece "Can China become a scientific superpower?" reports thusly: "Some Chinese scientists fear that the corruptions and silences endemic in authoritarian states will hold them back from the breakthrough-making Nobel-winning heights." The piece also ponders whether "you can get either truly reliable science or truly great science in a political system that depends on a culture of unappealable authority is, as yet, unproven."
All the more reason for the thrust of American science and innovation policy to laser focus on our own capabilities — as enhanced through immigration, trade, public investment, and pro-entrepreneurial tax and regulatory policies — rather than worrying about how to suppress China's rise. (Which, of course, doesn't mean we ignore the business and defense implications of, for instance, technology theft). On this subject, let me give a bit of a recent Q&A I had with China specialist and AEI fellow Zack Cooper
Pethokoukis: I often think about what kind of economy is conducive over the long term to technological progress and for innovation, and then I see the direction of the Chinese economy. For example, their social credit system, where they are going to monitor people. To me that sounds like they're moving toward an extremely oppressive more totalitarian state. Is that the kind of state long term that is going to produce lots of breakthroughs and innovations? If you're a Chinese scientist with any flexibility about where you live is that really the kind of environment you would want to be in? In Silicon Valley they like talking about start-up ecologies and ecologies for growth. The social credit system and the totalitarian environment doesn't sound like a very good ecology to me.

Cooper: That's right. I think in a lot of ways if you're trying to figure out what does the current Chinese system resemble most right now, what comes to my mind is the Soviet Union in the early 80s, where the leadership knew that they had a problem. At that time they knew that they were going to have to open up economically if they were going to spur the kind of growth they needed to compete in the future, but they also knew that politically it might not be possible. Now, the nation is in a particularly difficult situation where Xi Jinping has centralized power. He has said that he's not going to step down after 10 years as his predecessors have, and yet if he fails in his efforts to spur growth it makes it even more difficult to replace him with someone who might have a different approach. So at the same time that Xi Jinping has centralized power he's also made the system much more fragile. I think there are real problems in Beijing and I don't think we should be so sure that they know how to solve them.