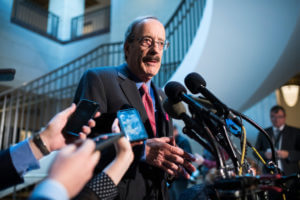 Periodically, it makes sense for Congress to examine the working subcommittees and determine whether circumstances have changed and if a particular subcommittee is needed. But the proposed action by House Foreign Affairs Committee Chairman Eliot Engel is so blatantly political that I'm embarrassed for him—almost.
Engel wants to dissolve the House Foreign Affairs Committee and replace it with another investigative committee to focus on Donald Trump:
We just thought, if we're going to do something relevant in this era where Congress is going to reassert itself, where there are so many questionable activities of this Administration vis-à-vis foreign policy, that it made sense to have this.
Just what we need — another committee investigating Donald Trump.
Not only is that excuse ridiculous, but when did terrorism stop being a problem for the United States? Engel claims:
I've been clear that oversight will be a priority of mine as Chairman, and part of that is reestablishing a Foreign Affairs Oversight and Investigations Subcommittee, which existed for much of the last 20 years. Of course the Committee will still deal with the threat of terrorism. In fact, we're expanding the jurisdiction of our subcommittees for different parts of the world to include terrorism so they're better able to grapple with this problem with a regional focus.
I don't believe him. He is essentially saying that terrorism is taking a backseat to finding a way to impeach President Trump. It's not like there aren't enough committees already investigating Trump. The House Oversight Committee Chairman Elijah Cummings has invited Michael Cohen to testify publicly. Adam Schiff is on the march, taking over for Devin Nunes as Chairman of the House Intelligence Committee Chairman. Jerry Nadler claims that there are, or will be, 80 different investigations looking into the actions of Donald Trump.
Over the years, we've been reminded that terrorism will never go away. On an international scale, the overseas terrorist groups have not been effective in the US. But conditions are constantly changing. Here's one assessment of al Qaeda, for example:
AQAP is both a domestic insurgency and an international terrorist organization, and it has to be combated as such. U.S. strikes and the allure of ISIL have combined to weaken the international side, but as ISIL retreats and the fighting in Yemen continues, these losses can easily be regained. In a sense, one of the two streams feeding AQAP has been cut off, but what is needed now is to shut down the other. Without eradicating what is left of AQAP, its domestic insurgency side, there remains a risk that the group will be able to resurrect its international terrorist side.
In addition, there are five foreign terrorist organizations that have been identified and are still active.
The bottom line is that the strength of terrorism is constantly in flux. President Trump states that we have defeated ISIS, an organization primarily interested in establishing a caliphate overseas. But what happens when they are stymied in their efforts? Where will they go next?
Eliot Engel is foolish to take his eye off the terrorist ball in order to focus resources on Donald Trump. I wonder if he's running in 2020?
It sounds like the Democrats are determined to indulge their desire for retribution. What happened to their commitment to govern the country?