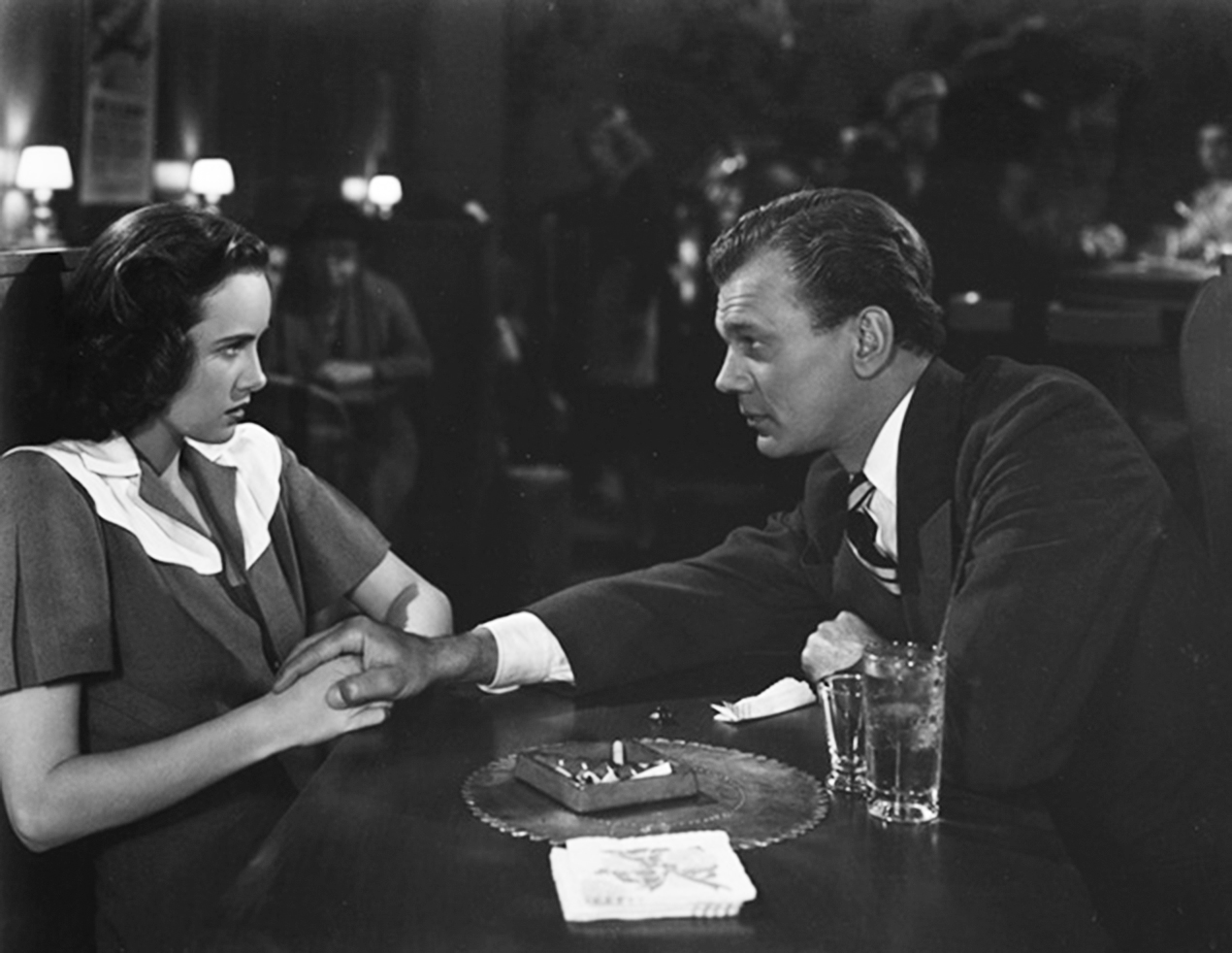 In May of 2015, I wrote about Alfred Hitchcock's Catholicism, evident in his many amazingly crafted movies. It seems that one can always draw some interesting insights from Hitch, particularly as it relates to the nature of evil and the tactics of evil men and women. Here's an excerpt from my post:
Hitchcock's dark world is perhaps most vividly described in Shadow of a Doubt by Uncle Charlie, Charles Oakley (Joseph Cotten) who describes what the world is really like to his niece Charlie (Charlotte) played by Teresa Wright, after she discovers that her uncle is indeed the psychotic serial killer of wealthy widows on the run from the law whom a detective has warned her about. At night, in a Santa Rosa bar, Uncle Charlie chases down and confronts his troubled namesake and niece:

Uncle Charlie: "You think you know something, don't you? You think you're the clever little girl who knows something. There's so much you don't know. So much. What do you know, really? You're just an ordinary little girl living in an ordinary little town. You wake up every day and know there's nothing in the world to trouble you. You go through your ordinary little day. At night, you sleep your ordinary sleep filled with peaceful, stupid dreams. And I brought you nightmares. Or did l? Or was it a silly, inexpert, little lie? You live in a dream. You're a sleepwalker, blind.

How do you know what the world is like? Do you know the world is a foul sty? Do you know if you ripped the fronts off houses, you'd find swine? The world's a hell. What does it matter what happens in it? Wake up, Charlie. Use your wits. Learn something!"

The last set of lines in particular are almost satanic in their tone and conjure up nightmarish images from the work of Hieronymus Bosch. It's a view of the world that is damned from a quintessentially evil character who is outwardly charming and graceful. And it's a warning from Hitchcock to be constantly alert even in a seemingly peaceful little community like Santa Rosa, California, circa 1943 because evil may be in your midst.
If you ripped the fronts off diocese offices, chanceries, seminaries, apartments in the Vatican, what would you find? In the past few months, federal investigators have been raiding diocese offices and confiscating computers.
In another open letter made available to Edward Pentin, Archbishop Carlo Maria Viganò, who is still in hiding (and no doubt for good reason), writes to disgraced former cardinal Theodore McCarrick imploring him to repent for all of his crimes against his abuse victims and crimes against the Church. To date, McCarrick has made no public statements of contrition for all that he has done. From the most recent letter from Viganò:
No matter what decision the supreme authority of the Church takes in your case, what really matters and what has saddened those who love you and pray for you is the fact that throughout these months you haven't given any sign of repentance. I am among those who are praying for your conversion, that you may repent and ask pardon of your victims and the Church.

Time is running out, but you can confess and repent of your sins, crimes and sacrileges, and do so publicly, since they have themselves become public. Your eternal salvation is at stake.

But something else of great importance is also at stake. You, paradoxically, have at your disposal an immense offer of great hope for you from the Lord Jesus; you are in a position to do great good for the Church. In fact, you are now in a position to do something that has become more important for the Church than all of the good things you did for her throughout your entire life. A public repentance on your part would bring a significant measure of healing to a gravely wounded and suffering Church. Are you willing to offer her that gift? Christ died for us all when we were still sinners (Rom. 5: 8). He only asks that we respond by repenting and doing the good that we are given to do. The good that you are in a position to do now is to offer the Church your sincere and public repentance. Will you give the Church that gift?
It should be noted, as it has before, that Abp. Viganò continues to call for the saving of souls for those who have been victimized by men like McCarrick but also for predators like McCarrick, himself and many of those who covered for him for decades, who have done great harm to the Church and the faithful. Pope Francis, on the other hand, not so much. Rather than echo or endorse Viganò's appeals, the Pope instead has referred to Viganò as the Great Accuser (a.k.a. Satan). Let's explore this a moment.
From Dr. Taylor Marshall and Timothy Gordon's interview with James Grein, who Theodore McCarrick's sexually abused repeatedly beginning when Grein was eleven years old during the sacrament of confession, this (emphasis mine):
Taylor Marshall: James, I'm really curious about the backstory on McCarrick and I think most people are horrified that this man arose to the highest post in the American Catholic Church, the Archbishop Cardinal of Washington, D.C., it's manifest and obvious to all of us, because of you and Viganò, that dozens if not hundreds of priests, monsignors, secretaries, bishops, people in Rome knew about McCarrick. This was not a well-kept secret and yet he was promoted to the highest post. My mind goes back to, you said for the first time, I hadn't heard this before, that he had a malice to destroy the Catholic Church. Did you see anything that we would call Luciferian, satanic, Freemason, Black Masses…was there…you know people talk about Malachi Martin and going back in the 60s, that there were Black Masses in the Vatican, that Freemasons were not just undermining the Church through influence but were actually practicing dark arts. Did you ever see paraphernalia or a Black Mass or people hanging out with McCarrick who indicated that any of these things were going on in your time with McCarrick?

Grein: Without too much detail, it was prevalent…as a bishop and archbishop in New Jersey, first as a start in Metuchen and dramatic changes in Newark. In fact, in Newark in his archdiocese he had made sure there was an exorcist in his group of people, in one of the closest parishes to him. And he needed that man not to rid the world of Satan but I believe to do the opposite. There is a seminarian that you…uh… should speak to about that. There is, uh…Google that idea. And that's how I found that guy when I had those thoughts back in the summertime and he and I corroborated our stories.

Taylor Marshall: Wait, so you're saying that McCarrick when he was archbishop of Newark that he befriended an exorcist to, what? Learn about the Devil?

Grein: No…uh…to help him bring the devil to the diocese. He was a priest.

Taylor Marshall: Oh, so, the exorcist had flipped and sold his soul in a sense.

Grein: So, you need to find that seminarian. He's easy to find.

Taylor Marshall: Huh. Wow. So, you're saying that the idea that there were Luciferian rites – –

Grein: No, it's not an idea.

Taylor Marshall: – – it's happening.
Marshall and Grein then begin to speak about disgraced Cardinal Bernardin of Chicago, who was a friend of McCarrick's and seemed to have the same agenda. Bernardin was just as vile as McCarrick and his diocese was a nest of sexual predators, which included Bernardin himself. There are many books and accounts that have brought this to light, suffice to say that it is telling that these two men were very friendly with one another.
Later on in the interview, Marshall queries Grein on what he thinks McCarrick's state of mind might be:
Taylor Marshall: What is McCarrick thinking right now as he sits in his monastery near a school? Is he sad? Angry? Sullen? He thought he was going to be pope and now he's just an ex-cardinal.

Grein: He's a quiet, sad man. I guarantee he's praying.

Taylor Marshall: He's what?

Grein: He's praying.

Taylor Marshall: Praying? You think he's converted?

Grein: I think he's praying.

Taylor Marshall: So, you think he's turned to Jesus?

Grein: I'm not sure to whom he's praying…but he's praying. He's asking for forgiveness…asking for help, he's asking for a quieter mind…that's what I pray for. I ask Jesus to just quiet his mind…don't let him go insane. I need him to hang around for a little while.
Pope Francis promoted McCarrick to be a papal emissary after former Pope Benedict XVI restricted McCarrick from public appearances or travel; and even when Abp. Viganò warned Francis of McCarrick's decades of sexual predation. It would be laughable, on its face, to think of Viganò as somehow doing Satan's work, which Francis slandered him with doing, when all the evidence has been accumulating for decades that men like Bernardin, McCarrick and those weaker prelates around them, were engaged in sexual predation and in some cases in the shadow of Satan, or covering up these crimes (like Cardinal Wuerl who still are embraced and go unpunished by Francis). From Novus Ordo Watch (an article excerpted from the Spring/Summer 2000 issue of RCF's periodic newsletter, Ad Majorem Dei Gloriam – emphasis mine):
Over the past 12 years, in sworn deposition, in accounts to investigators, in affidavits submitted in support of others' cases, in direct statements to Bernardin, in phone calls and letters to Church officials, and in correspondence with Vatican officials (all of which RCF has examined), Agnes has testified to the following story:

In the fall of 1957, in Greenville, S.C., Fr, Joseph Bernardin raped 11-year-old Agnes as part of a Satanic ritual that involved, among others, Bishop John Russell of Charleston. Brought to the event by an abusive father, Agnes "was able, at first, to resist Bishop Russell physically, out of the knowledge that God had made me good, not bad as I was being told I was" (her words). As a young child, she had been victimized by a "sadist" cousin, and her identity was based upon "resisting bad things", which included Bernardin. Bernardin then showed kindness and approval of her resistance, in order to gain her trust and get her to relax, and then he raped her. He followed the rape with a perverted use of a host, in an attempt to make Agnes swallow the guilt of the event.

In the fall of 1992, Agnes passed a polygraph examination regarding these events. She also, in early 1990, told her story to Malachi Martin, who had been recommended to her as someone who could get her information to the Vatican, which Agnes knew had sole and immediate jurisdiction over such a case. Martin wrote a novel, Windswept House, with the premise that Agnes had given him: that the Catholic hierarchy's tolerance of heresy, liturgical abuse, clerical sexual misconduct, and clerical pedophilia had one overarching explanation at root, a network of Satanists whose smoke had ascended high in the Church.
Francis' own record of promoting, protecting, or covering for sexual predators in the clergy as Archbishop Cardinal Bergoglio of Buenos Aires and later as Pope Francis doesn't exactly give him much moral authority to smear Archbishop Viganò as someone in league with Satan. The story of the Bergoglio pontificate continues. We are bound to learn even more troubling things going forward. With each passing day, it seems that more revelations spew forth about the men who have sought or are still seeking to destroy the Catholic Church…but it appears that because of social media and the internet, the battle has been joined.