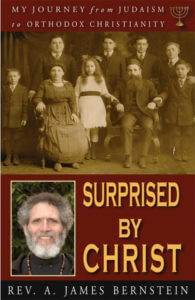 How does a Hasidic Jew, the son, and grandson of rabbis, become an Orthodox Christian? The journey is a fascinating one, as A. James Bernstein relates in a book that is one part personal autobiography, and the other part his spiritual journey from the Judaism of his youth through what he describes as the return to the fulfillment of Judaism's promise in the Orthodox Church. In his tale, Father Bernstein takes readers from his initial discovery of Christianity as a young man, through his years as an Evangelical street preacher in Berkley, and back to Israel both past and present as he seeks to re-find the ancient Jewish connection to Christianity.
Bernstein begins with a vivid recollection of when a drunk anti-semite threw a brick through his father's storefront in the middle of the night in Queens, NY. Though James was born in the US during World War II, his parents had wed in the early 1930s, and had fled Jerusalem (where his father was from) for the US (his mother was from Pittsburgh) out of fear that the Muslim Mufti of the region would ally with the Nazis. The horrors of the war and the revelations of the Holocaust broke much of his father's faith, and though trained as a Rabbi in his youth, in America he instead chose to run a candy store.
Bernstein describes much of growing up in New York City in the 1950s and '60s as nearly idyllic, the brick-throwing aside, but he had a hunger for spiritual knowledge that led him into conversations with many of the other ethnic groups around him, and those conversations led him to read (in secret) the Christian Bible. What he found, and moreover whom he found he compared in detail to everything he had learned as a Jew, and in time, and at the cost of his relationship with his parents, he converted to Christianity. But of what sort?
To a convert, the variety of Christian denominations and their practices are bewildering, and Bernstein struggled at first to find an authentic expression, eventually finding his way into an Evangelical group in college in the late 1960s. From the time of his conversion, he was led to actively evangelize, whether by speaking, doing street theater performances, or distributing flyers. In that time he encountered other Jewish converts, including Moishe Rosen, who recruited him into what became Jews for Jesus (Bernstein takes some credit for coining the group's name).
Bernstein narrates a rather active and enthusiastic life through this time as he and Rosen relocated to California and then began street preaching and theater on the Berkley campus, all against the backdrop of the other tumults of the time. At all times he followed where his faith pointed, but time and again his narrative returns to his fundamental concern: how does he maintain his Jewish identity as a Christian? As his preaching continued, and he found himself elevated to become a pastor at his church, he describes a related and growing concern too: if the early Christians were all Jews, where is Judaism within Christianity, and are there still Jewish Christians, living descendants of those early believers, to be found in the world (not just recent converts like himself)?
The story of his life is throughout intermingled with his unfolding of the Christian message itself. Each step in his discovery is described both in terms of his autobiography and in theological terms. Along the way, he narrates his own spiritual and familial struggles, his travels back to Israel, and movements and organizations he was involved in along the way. But his goal is always clear: to tell how he did, at last, find the living out of ancient Judaism within the Orthodox Christian Church, and how he, at last, became a priest therein.
As an adult convert to Christianity myself, I found his own struggles with modern expressions of Christianity rather familiar. Like him, I never really felt I fit in well with Evangelicalism, and I rather admired his persistence and intellectual curiosity to follow where history and his faith pointed. But the book is also fascinating in its explorations of the continuation of many Jewish beliefs, scriptural interpretations, and practices that are still alive within the Orthodox church. Rev. Bernstein gave up much by following Jesus but in the process, he also reconnected with the earliest followers, Jews all, whose descendants truly are still alive in the same lands they've always dwelt in.
The book was originally published in 2008 by what was then known as Conciliar Press, which is now known as Ancient Faith Publishing, and is available as a paperback, an e-book, and an audiobook. The unabridged audiobook, narrated by Father Bernstein himself, was just made available through Audible.com and runs about 16 hours.
The only criticism I would make of the audiobook format is that the author (likely at the behest of the audio producer) reads the book a bit slowly and with deliberation. This gives the impression of a less lively speaker than he is in real life. I've linked at the bottom of this post to a Youtube video of him giving a talk a few years ago, and he has been featured on a number of podcasts as well, so you can see that he is quite dynamic. But that is a minor quibble, and it is wonderful to hear Rev. Bernstein unfold his life and theology in his own voice and New York cadence.
In full disclosure, I was given a free copy of the audiobook by Ancient Faith Publishing in return for reviewing it.