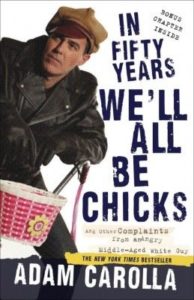 The following is an abbreviated transcript from an Adam Carolla podcast. The quote begins at 1:23:30 in the show. Gina Grad is discussing how Kim Kardashian is creating a new make-up line for men.
Adam Carolla: Can I say this? This is a bad confluence of events. Because the last time I checked, dudes were doing 86 percent more crying than they did in WWII.

Rob Riggle: Yes.

Adam: I feel like the guys who where on the Higgins landing craft at Omaha Beach didn't cry as much as the average guy watching "Project Runway" does now.

Rob: Yes.

Adam: You now mix that with the zero percent mascara those guys wore with the new world order of dudes wearing eyeliner and kissing potion and it's going to be a [expletive] running mess. It's going to be like an Armenian funeral.

Rob: It's snowballing and it keeps picking up speed as it goes downhill. In the '80s, guys weren't doing the metrosexual thing. They weren't even going to spas… We'll be carrying around make-up bags soon. That's it. That's when I check out I don't want to be here anymore.