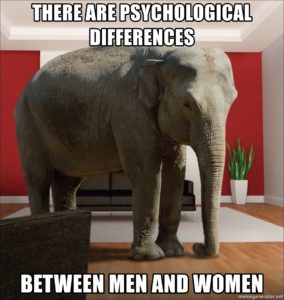 You may have read that the American Psychological Association recently excreted something they called, "Guidelines for Psychological Practice with Boys and Men." This remarkable document was written by academic psychologists, who were not known for their excess of (or even understanding of) masculinity, even before this paper was published. This won't help their reputation. They included the requisite tut-tutting about the "harmful" ideology of masculinity, marked by "stoicism, competitiveness, dominance, and aggression" together with "anti-femininity, achievement, eschewal of the appearance of weakness, and adventure, risk, and violence." I like the "anti-femininity" part. I'm not sure why people who don't like men can't figure out that men do like women. Have these people never met a man before? Or a woman?
My favorite line from the paper would be hard to choose, but this would probably be it: "Indeed, when researchers strip away stereotypes and expectation, there isn't much difference in the basic behaviors of men and women." Which might lead one to wonder why they just wrote an enormous paper about "Guidelines for Psychological Practice with Boys and Men." Wouldn't the paper be better named, "Guidelines for Psychological Practice with Boys and Men and Girls and Women. And Trans-sexuals. And Intergenders and Androgynes. And Bigenders. And Pangenders and Genderfluids. And Aliagenders." And so on. And so on and so on, because Tumblr lists 112 different genders, and other social media sites recognize different numbers of different differences which describe different gender differences.
Of course, that would seem like a lot of unnecessary work, since according to the esteemed American Psychological Association's recent paper, "…there isn't much difference in the basic behaviors of men and women." Perhaps they just did a lot of work for nothing.
So there's really no difference between the genders. Except that one is harmful, marked by dominance, violence, and aggression. So there's that.
But the important impact of this paper is that psychologists now know how to treat patients based on their gender, because what gender you're born with determines your psychiatric fate. You can be dominant and aggressive simply because you're born that way. Except, of course, that you can change your gender if you choose, so you can be different if you feel different, regardless of how you were born. Which wouldn't matter, because men and women are basically the same. So it actually doesn't determine your, um, hang on a second…
I often say that I'm conservative because I'm not smart enough to be progressive. This stuff makes my head hurt.
Until recently, psychologists were people who had an unusually profound understanding of human nature. Now, understanding human nature is absolutely forbidden in psychology. That's one thing when it comes to writing papers. But, one would think, that would make the actual practice of psychology difficult. How can you help people if you don't understand them? If you refuse to understand them? That can't work.
Unless, of course, this is less about helping people than it is about changing people. If you don't like people, or if you don't like yourself, you don't need to examine yourself to figure out what your problem is. You just change everybody else. And denigrate those who refuse to change. Much easier. And healthier for everyone involved. Well, healthier for everyone except for everybody other than you. Well, it's not that healthy for you either. So never mind.
This psychology paper is not about the psychiatric illnesses of patients, it's about the psychiatric illnesses of the authors. Anyone who has ever met another person, and can see, well, this – that person has real problems. And if that person seeks to inflict their pathologies on others, and is allowed to do so – actually, encouraged to do so – by the powers that be, then the rest of us have real problems as well.
This should not be chuckled at and ignored. This should be actively eradicated from our academic and public discourse. It seems funny, but it's really not. As such ideas become accepted and mainstreamed, then reality becomes more of an inconvenience than a, well, a reality.
There are some who don't care for reality, and I can understand that. Reality can be unpleasant at times. In fact, without faith in God, reality can be absolutely dismal sometimes.
But ignoring reality is dangerous. Trying to alter reality is even more dangerous. We should not encourage those who do so.
Published in General