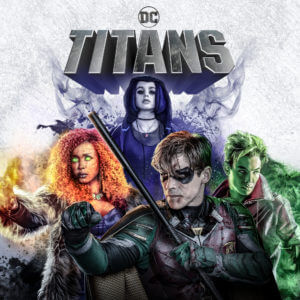 I went and subscribed to DC Universe, the DC multi-media service which includes comics and streaming. So far, a few months out the former is nowhere near as extensive as Marvel's Marvel Unlimited service, but it seems DC is going in a different direction with their app. As for Streaming, there's a small helping of shows. Most of them are older films and classic television programming such as the original Wonder Woman show and black and white Superman or even Superfriends episodes which demonstrate the truth that the Jason Mamoa film tries to hide: Aquaman has always been lame.
DC Universe is creating original content as well; their first is Titans. So far, my feeling is that it's not too bad, but not great. It's a solid three on a scale of 1 to 5. Mostly it suffers from being a superhero program in a glut of superhero programs. By now we've had about ten years of the Marvel Cinematic Universe on big and small screen, and several Batman, Superman films as well, and plenty of DC television programs that are separate from the DC cinema. Titans is a latecomer and has to stick out in a market that's glutted so bad, even I don't feel pains missing a superhero film or tv show. However, it's several leagues better than my least favorite series and favorite punching bag, DC's Legends of Tomorrow (last season was also terrible, btw).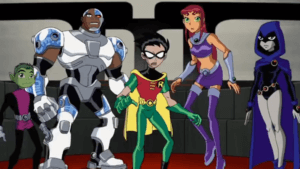 Titans also suffers from having a much-beloved predecessor, Teen Titans which aired on Cartoon Network. Many of the portrayals of these characters are popular and the voice actors still play the same characters in various cartoons – such as on DC Superhero Girls. Teen Titans played back when Millennials were growing up, thus the social media backlash against it is the typical rabid fan hatred of the new looks and different characterizations. There's a -lot- of trashing on this show for not being remotely like the cartoon: the characterizations are different, the look is different, the atmosphere is different. It makes sense. Teen Titans was meant as a fun adolescent romp in the superhero genre, while Titans is going the Netflix route of the dark street hero types.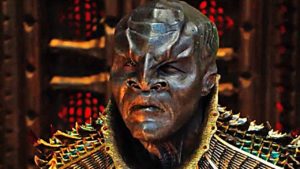 DCU is banking on "Titans" being the draw to their service, much as CBS All Access has done with "Discovery". It seems to be roughly parallel. Many Star Trek fans hate the latter for their own reasons, but it has drawn some to subscribe to All Access. Will it work? I can't rightly say. I subscribed to DC Universe as I'm an old comic book fan and I want to read old and new stories. So far DC hasn't put out a digital archive nearly the size of Marvel Unlimited, as noted above, so you can read a few issues of the original appearance of Superman in Action Comics but you won't get nearly as much in that original line. On the other hand, I was delighted to find old programming in the movies and television section, so I've stayed so far.
Titans story loosely adapts some older comic book characterizations and general plotlines based on characters, but other than that keeps its own direction. The show centers around the principles search for their selves. Dick Grayson is trying to build a life away from his former years as Robin, but never really escaping that life. Rachel/Raven finds there's much more to her than meets the eye and it's far darker than her worst nightmares. Kory/Starfire has no memory, literally having little self at all. Their search centers around Rachel, and the story orbits around what's happening with her. Occasionally those orbits swing rather wide, perhaps making this 11-episode season a bit longer than needed. Unfortunately, these searches are never really satisfying.
It stumbles as well, much like a lot of first seasons do as the production works out its voice and characters and story. There are a few other crimes I find. Episode 4 works out to be an episode-long commercial for another upcoming DC Universe show, Doom Patrol, and much of it plays out about as painfully as you'd expect. On the other hand, it probably has one of the best character introductions in a superhero I've seen:
On the other hand, the Grant Morrison run of the Doom Patrol comic book was one of the most brilliant works that is often imitated but never equaled. Morrison himself had one other great work from that time period, Batman: Arkham Asylum, but I've found I've not cared for much of what he's made since. Anyhow, seeing these characters was fun, but we dwelt too long on them for a show about the Titans.
The show is entertaining enough, but again, it has yet to seriously stand out. Again, the question we'll have to ask is, "will this draw people to the DC Universe service?" I'm not sure, but my guess is ultimately not enough. We'll see if further original content can do the deed.
Published in Entertainment