On Instagram this morning Beto O'Rourke posted a picture of himself getting a dental cleaning. I'm doing Ricochet members and readers the courtesy of linking the picture here instead of embedding it into the post. You are all quite welcome.
Ever since Alexandria Ocasio-Cortez won support and notoriety by Instagramming some cooking scenes, other Democratic politicians have tried, largely without success, to replicate her relatable social media posts.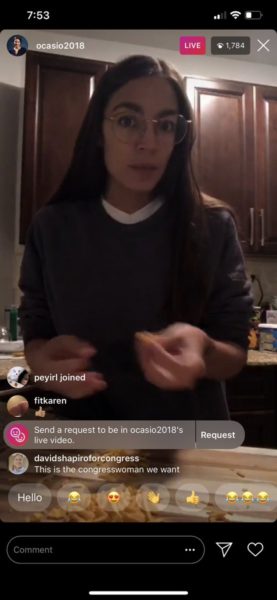 So what does it look like done badly? Well, Beto is one horrifying example, and my friend Allie Stuckey posted a hilarious interpretation of Elizabeth Warren trying her hand at Instagram as well:
The real version was almost as awkward:
So how can these Democrats go about being relatable? Well, for starters, understand what drew voters to AOC's kitchen dispatches: authenticity. It's not authentic to pretend to be someone you're not, nor is it authentic to post shots that would make your own mother recoil. Nobody needs to see a dental cleaning. What do people love seeing? Well, here's a few examples from my own Instagram account (feel free to follow, folks…
Pets and kids. What kind of monster doesn't love pets? Or kids? Or both?
2. Humor. Without taking yourself too seriously.
Everyone meet my new best friend Katie. Our husbands are colleagues. We have kids all the same ages. She lives five minutes away. And when one of my kids

Editor's Note:

Automatically redacted for Code of Conduct violation: Obscenities and vulgarities.

If you are the author, you can edit this and remove the offending word. This is an automatic filter and does not reflect editorial judgment.

on her lawn and another ate dog food, she laughed. Oh and she sent me home with one of her instant pot cookbooks to borrow because already besties.
3. Getting into the nitty-gritty of life's trials and travails, while keeping yourself real and not making people uncomfortable.
My daughter's emotional IQ is off the charts. And she knows her snuggles have magical powers. And so, she has spent every possible minute doing this to Pop since Bubby passed. In a very sad time, she's bringing him a tiny bit of joy, and I could not possibly be more proud of her.
4. And yeah, everyone loves food and nature, without being too showy.
Thanksgiving Shabbat. Two cuts of turkey, cauliflower mashed potatoes, roasted cauliflower & Brussels sprouts with pomegranate seeds, apple crisp and homemade challah.
I forgot to include the iconic shot of the day and her childhood. Hopefully she won't mind me posting wedgie shots.
And when all else fails, it doesn't hurt to have a baby in your car. Well, it does actually hurt a great deal. But your social media metrics will be off the charts.
Thank you to my best midwife yet – Seth – for delivering our 9lb son in his car earlier this morning off of Route 1 in a gravel parking lot outside an auto body shop. Thank you to the South Brunswick PD and EMTs for getting us to the hospital after he was born. Thanks to God we are happy and healthy, and just a tiny bit shell shocked by a 45 minute birth.
Published in Entertainment