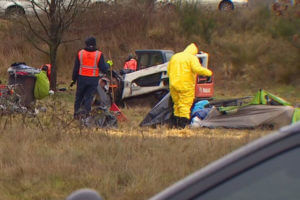 For months, residents of Seattle's Northgate neighborhood have been lodging complaints with the city about a homeless "camp" by the side of Interstate 5 near an onramp. More than one fire has occurred at that location and nearby businesses have been threatened by "campers." KOMO News has a story on the cleanup of the camp [emphasis mine]:
Seattle's Navigation Team spearheaded the cleanup with help from WSDOT crews and Seattle Police. They arrived at 9 a.m. Wednesday and cleared the lot by the early afternoon, offering resources to the campers who were forced to leave.

"I have a lot of anxiety," Benjamin Eddy said. He's been living in the Northgate encampment since it started. He's been homeless for four years, battling drug addiction.

"I'm used to this," he said. "They come here and they sweep the camps, and then we squish like a ketchup packet, and then we somehow come back together again. They need to find some better solutions, I know that."

But many neighbors were excited to see the cleanup.

"It's a big relief," Jessie Singh said. He owns the Chevron across the street and says campers trespassed, harassed customers and one even threatened him.

"I asked him to leave, but instead of leaving he pulled a knife on me," Singh said.

Neighbors complained to the City for weeks, some feeling ignored. But the City says planning a cleanup like this takes time. They had to bring in several agencies and special crews to clear needles, hazardous waste and trash. They even scraped the soil to clear waste.

…Under City rules, the Navigation Team had shelter beds available to every person cleared out of the encampment. They say, as of Wednesday afternoon, only one person took them up on that offer.

Some neighbors are concerned the campers will come back to that empty lot or another nearby. Eddy agreed, saying he would join them if the tents return.

"Not right away," he said. "But I probably would if I knew I could get away with it."
The main reason this got cleaned up was that it was on Washington state DOT property.
Very polite, those members of Seattle's Navigation Team. If a vagrant does not agree to go to a shelter, he cannot be made to. No consequences.
Published in Culture