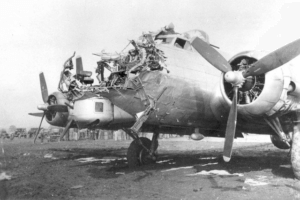 The B-17 was one helluva of an airplane. Like the old Timex ad used to say, it could take a lickin' and keep right on tickin'.
Engineers and aviation buffs to this day marvel at how much damage a Flying Fortress could take and still fly back to their home bases in Britain. During the war Boeing dispatched designers to look at these damaged wonders and make them even better. To do that though it took some counter-intuitive thinking.
If you look at a shot up airplane you might come to the conclusion that the areas that took the most damage were the areas that needed the most reinforcement. But just the opposite is true.
Because they were examining planes that actually made it back, the damage observed was actually the least vulnerable area of the aircraft. You could make these areas look like swiss cheese and the damned things would still fly. It was the undamaged areas that were the most vulnerable. Hit the planes there and they didn't come back. It was the unobservable damage that meant everything.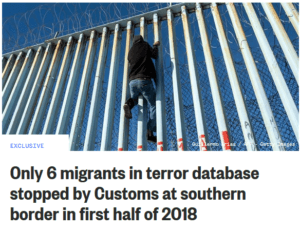 Today, NBC News ran with an "exclusive" that they claim bolsters their case that President Trump's statements about terrorists sneaking across our unsecured southern border is simply not true. Only six people that were detained by the Customs and Border Patrol in the first half of 2018 had their names show up in the nation's terrorist database, says reporter Julia Ainsley.
All well and good. But like the holes in the B-17s, the problem isn't in what you can observe, it's in what you can't observe. The terrorists we do catch at the southern border aren't the problem, it's the ones that slipped in unobserved.
9/11 wasn't caused by what we knew, it was caused by what we didn't know. And we're still looking at the wrong holes and coming to the wrong conclusions.
Published in Immigration