It now seems there's going to be a national conversation about whether top federal tax rates should be dramatically higher. And for that, you can partially credit first-term House member Alexandria Ocasio-Cortez — as well as the extreme media attention given to her every policy utterance. But only partial credit here. At a time of a) high national debt that's heading even higher, and b) increased inequality — including the creation of some truly massive personal fortunes — it's a discussion that was probably inevitable.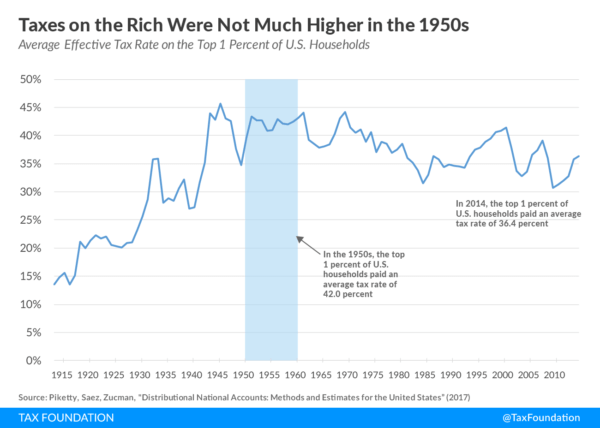 And here's hoping that discussion is informed and substantive. Unfortunately, early signs give reason for doubt. For instance: Pointing to past periods in American economic history that experienced both high individual marginal tax rates and strong economic growth is hardly dispositive. Not many people paid those high marginal rates or anything close. During the 1960s — a period when the top tax rate varied between 91 percent and 70 percent — the superrich paid an average federal tax rate of less than 30 percent. More broadly, notes the Tax Foundation, the all-inclusive tax rate (federal, state, local) is only about a half dozen points lower today for the top 1 percent of taxpayers than in those immediate post-war decades.
And there was a lot more happening back then with the American economy and growth than just the impact of tax rates, whether good or bad. Spared the ravages of war, the US was the planet's economic colossus. It also benefited from a wave of productivity advances in the 1920s and 1930s that didn't fully play out until after the war. Finally, unlike today, economic growth during those decades was greatly helped along by demographics in the form of strong labor force growth.
Also worrisome: the frantic hand-waving away of concerns about the possible unwanted economic impact from much higher taxes rates. Little is understood about the long-term impact of very high tax rates on taxpayer behavior and the economy. Those are as important as they are hard to measure. America, in particular, benefits greatly from people who take risks and make career choices influenced to some degree by hopes of striking it rich. "Significantly reducing that possibility by hitting those individuals with extremely high income taxes is of first-order importance in determining the optimal top tax rate," my AEI colleagues Aparna Mathur, Sita Slavov, and Michael Strain argue in their 2012 research note "Should the Top Marginal Income Tax Rate Be 73 Percent?"
But it's early, and as this debate continues perhaps the quality will improve.