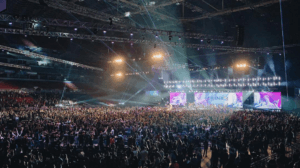 Last week I went to Urbana, the triennial missions conference of Intervarsity Christian Fellowship. (You've read Elisabeth Elliot's Through Gates of Splendor? When she mentions in the first chapter that her husband Jim Elliot's journey began after he attended "a large convention . . . at the University of Illinois for students who were interested in foreign missionary work" in 1948, I'm pretty sure she's talking about Urbana.)
It was quite an experience: 10,000 people converged on a St. Louis convention center for five days of seminars, Bible study, praise-and-worship songs, organization fairs, and meeting people.
Against Idolizing the Eschaton
In some ways, it was very encouraging. The biblical theme for the week was Revelation; the Bible studies and sermons over the course of the week worked their way through the book of Revelation from beginning to end. One of the speakers, addressing all 10,000 of us assembled, exhorted us not to get distracted by trying to figure out exactly when the end will come or what it will look like (he pointed to verses like Matthew 24:36, 44—"'But of that day and hour no one knows, not even the angels of heaven, but My Father only. . . . Therefore you also be ready, for the Son of Man is coming at an hour you do not expect'"—or Acts 1:6-7), but instead to focus on the larger message that God is sovereign and He will make everything right in the end:
Now I saw a new heaven and a new earth, for the first heaven and the first earth had passed away. . . . Then I, John, saw the holy city, New Jerusalem, coming down out of heaven from God, prepared as a bride adorned for her husband. And I heard a loud voice from heaven saying, "Behold, the tabernacle of God is with men, and He will dwell with them, and they shall be His people. God Himself will be with them and be their God. And God will wipe away every tear from their eyes; there shall be no more death, nor sorrow, nor crying. There shall be no more pain, for the former things have passed away."

Then He who sat on the throne said, "Behold, I make all things new." And He said to me, "Write, for these words are true and faithful."

And He said to me, "It is done! I am the Alpha and the Omega, the Beginning and the End. I will give of the fountain of the water of life freely to him who thirsts. He who overcomes shall inherit all things, and I will be his God and he shall be My son.
That's not to say that Intervarsity doesn't believe studying Revelation in detail is "profitable" for us—on the contrary, we spent the conference doing exactly that, in many Bible-study sessions and sermons over the course of the week—but rather that Intervarsity offered a refreshing clarity and consensus about how to read it, and understand it, and not miss the forest for the trees. For those of us who sometimes wonder about the long-term viability of Protestantism and the tendency toward the proliferation of splinter groups, it was a reassuring sign of possible present and future church unity.
Thinking outside the Box about Race
Man is fallen, history is full of examples of man's inhumanity to man, and one of the ways this has been expressed both in America and elsewhere is through racism, the treatment of some people as inferior based on the color of their skin or their ancestry. In a seminar on the subject ("Beyond Colorblind: Being a Gospel Witness through Ethnic Identity"), an American child of Korean immigrants described his painful (and dismayingly recent) experience of growing up witnessing ethnic slurs and mockery directed against his parents.
The traditional American consensus response to racism, for the last generation or two, has been the colorblind vision of the Reverend Martin Luther King, Jr.:
We can never be satisfied as long as our children are stripped of their self-hood and robbed of their dignity by signs stating: "For Whites Only." . . .

I have a dream that one day on the red hills of Georgia, the sons of former slaves and the sons of former slave owners will be able to sit down together at the table of brotherhood. . . .

I have a dream that my four little children will one day live in a nation where they will not be judged by the color of their skin but by the content of their character. I have a dream today! I have a dream that one day, down in Alabama, with its vicious racists . . . one day right there in Alabama little black boys and black girls will be able to join hands with little white boys and white girls as sisters and brothers.

I have a dream today! I have a dream that one day every valley shall be exalted, and every hill and mountain shall be made low, the rough places will be made plain, and the crooked places will be made straight; "and the glory of the Lord shall be revealed and all flesh shall see it together."
Intervarsity, however, explicitly rejects the "colorblind" framework (the book Beyond Colorblind by Sarah Shin was featured prominently, both at this seminar and at Urbana). Instead of encouraging all people to move toward a single cultural identity as Americans, Intervarsity explicitly seeks to serve "people of every ethnicity and culture" by creating separate student groups for each—chapters just for black students, Asian Americans, "Native Ministries", etc. Indeed, one of the biggest applause lines in the conference was when a speaker (addressing all 10,000 assembled) described the proliferation of black-only chapters. This organizational approach is part of Intervarsity's larger cultural approach of encouraging ethnic identity and pride.
To their credit, the "Beyond Colorblind" seminar speakers acknowledged at least two of the downsides to this approach; on the other hand (to the discredit of Intervarsity and its pro-identitarian approach), it wasn't clear that they or Intervarsity had any idea what to do about these problems that they are actively creating or making worse.
Problem 1: Encouraging ethnic pride for everyone but white people risks creating a generation of self-hating white people.
One of the speakers, a white woman married to a Chinese man, told of the time one of their children said, "It's too bad Mommy isn't Chinese." She described the child's sense that his Chinese cultural heritage (including traditional foods, language, etc.) was interesting and to be celebrated, an impression the child accurately perceived his parents (and Intervarsity's kind of subculture) to have conveyed, but with a conspicuous void where his mother's identity should be, leaving him with the understandable feeling that his mother was some kind of cultural second-class citizen.
The mother awkwardly stumbled through telling her child, and awkwardly stumbled through telling us in this seminar, that on the contrary, her son should be proud of her white heritage as well. (She hesitatingly identified her ethnicity as "white American" at this point in the talk, later as "European American".) It wasn't clear whether she understood why everyone has traditionally avoided going down that path. (Pushing white people to "take stock of their whiteness and identify with it more . . . is a remarkably bad idea. The last thing our society needs is for white people to feel more tribal." Traditionally, "whites accepted a double standard about the appropriateness of cultural and political tribalism. For obvious and reasonable historical and economic reasons, black and brown people explicitly pursuing their own interests was viewed differently than whites doing the same thing.") She offered her son a few caricaturish-sounding alleged cultural good points of this white heritage, such as an emphasis on education.
Nor did she seem to have considered the (arguably) less harmful next-best thing (if white people must have ethnic pride of some kind to keep up with everyone else): pride in more specific ancestral and cultural identities—English, Scottish, Scandinavian, Italian, Lutheran, New Yorker, etc.
Problem 2: If white people don't end up hating themselves, they just may end up hating everyone else.
Ingroup-outgroup or "tribal" thinking is part of human nature. It doesn't necessarily mean hating everyone from the outgroup (also known as "the other"), but it does tend to mean being for the fellow members of one's own "team" first, and against members of other teams to the extent their interests are perceived to conflict with those of the members of one's own team. (In other words, again, encouraging white people in America to think of themselves as a tribal interest group is a profoundly bad idea.) In the traditional colorblind consensus, this problem was solved by having white Americans conceive of their identity in many ways—as Americans, as Browns fans, as being from whatever town, as members of their profession, as members of their religious group, as members of their family, but not specifically as "white people".
It wasn't clear that the seminar speakers had even considered this significant possible downside of their approach.
Problem 3: Telling people that they belong in one of a handful of predetermined minority categories risks artificially calcifying the categories and keeping people in their designated box.
The way to combat racism is "by becoming more cosmopolitan and encouraging cultural sharing, not by hardening existing racial divides."
Who is to say that students should identify as Latino, for example, rather than as Mexican, or Colombian, or castellano, or Cuban, or Caribbean, or even simply as American? By separating students into its own preconceived categories, Intervarsity does. The seminar speakers included a perfunctory admonition that we should not put people in boxes but didn't address the problem further.
Problem 4: Segregation is bad.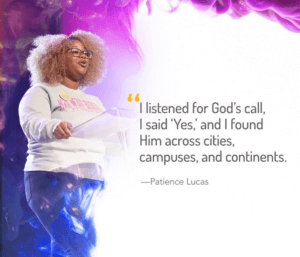 Most mundanely, one of the arguments for ending Jim Crow segregation in the first place, as well as for specific policies like racial affirmative action in college admissions, was that if white Americans live and work side by side with black Americans, they'll be that much less likely to think of black Americans as "the other" or to have any feelings of ill will toward them. For that and other reasons, people lament the "de facto segregation" that is observable in many places to this day—in the high-school or college cafeteria, for example, one may find white people sitting with their white friends, and black people sitting with their black friends. To the extent we can or should change that reality, Intervarsity's approach is actively making the problem worse. (How are white students supposed to become close friends with their black classmates if all the black students are isolated in ghettoized black student groups?)
Rev. King dreamed of black and white Americans sitting together in brotherhood; he dreamed of no more "For Whites Only" signs. Arguably, Intervarsity's approach substitutes "for blacks only" signs and undermines the dream.
Uneasy but Mostly Healthy Relationship to Politics, Morality
Finally, apart from what could be seen as left-leaning errors with respect to race and identity, the conference mostly offered broadly healthy reminders that our true allegiance is to heaven, not to worldly powers or power. There was at least one admonition against looking to any president or leader as our savior or messiah, an admonition that applies against the personality cult of Obama as much as of Trump. There was one praise-and-worship song with a line lamentably lamenting (I paraphrase from memory) that the gap between rich and poor grows greater every day, but mostly Urbana resisted the temptation to turn left-leaning or other political hobbyhorses into idols or moral crusades.
While the organization that has sometimes been caught off guard by the intensity of the dominant culture's backlash against Intervarsity's simple reaffirmations of basic Christian sexual morality continues to grapple with how best to engage with such a culture—the young speakers at a seminar on "Reaching Q/SSA [same-sex-attracted] People Near & Far" offered a combination of clarity and confusion—Intervarsity steadfastly continues to refuse to cave to the culture on the central point.
It seems interesting and worth noting that a Catholic contingent was also represented at the conference.
Overall, Urbana 2018 was a large and impressive showing of robust evangelical culture and biblical witness. It will be interesting to see how these conversations between different parts of the church and between the church and the world continue to develop in the years to come.