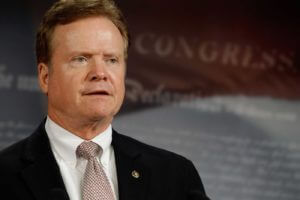 President Donald Trump is reportedly considering Jim Webb to be his new Secretary of Defense. Webb, a combat Marine, author, and 2016 Democratic presidential candidate, might be conservatives' favorite donkey. Unlike most of his fellow travelers, Webb understands the military from the ground up and holds a special committment to the "deplorables" so loathed by the political class.
Thankfully, we have a preview for how Webb would perform running the Pentagon. On May 1, 1987, President Reagan appointed Webb as his Secretary of the Navy. It did not go well, to put it mildly. I was serving on a submarine at the time, so I remember well his brief and stormy tenure. Here's a refresher from the March 7, 1988, edition of the Washington Post:
James H. Webb Jr. says he is a man who can't be bridled, a Marine who isn't good at playing the bureaucrat, a political appointee who couldn't march up to Capitol Hill and sell a pack of ideas he detested.

Some of his former Pentagon colleagues see it another way. They say he was reckless, bullheaded and unrealistic in his expectations of a massive bureaucracy like the Defense Department.
Reagan appointed Webb on May 1, 1987. Webb quit in a huff just ten months later.
Webb resigned by letter, refusing to inform his boss in person. "Secretary [of Defense] Carlucci and I were not talking at that point at great length anyway," Webb explained. "I'm not a good bureaucrat in [that] the tedium of the bureaucracy does get to me."
He disagreed with President Reagan's decision to escort U.S.-flagged Kuwaiti tankers in the Persian Gulf following an Iraqi attack on the USS Stark. Instead of dealing with the sensitive issue in private, Webb ran to the media, recommending that we launch major military strikes.
Webb continued to grumble publicly about his Commander-in-Chief's strategy throughout the world. He gave an unvetted speech to the National Press Club calling for dramatic drawdowns in NATO forces throughout Europe and the distribution of those forces around the world. This drew the ire of our allies and Secretary of State George Shultz who was managing the delicate world of Cold War negotiations.
Finally, ten months into his tenure, Webb abruptly quit, blasting the Reagan administration for an "insufficient" Navy budget.
In The Reagan Diaries, the President jotted a brief note on February 22, 1988:
"Present Sec. Webb resigned over Navy budget cuts. I don't think Navy was sorry to see him go."