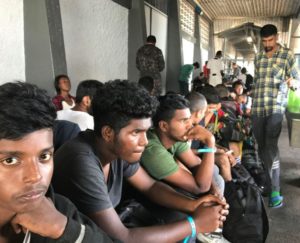 It's nearly impossible to get a straight story about whether terrorists are coming through the southern border. I thought I'd explain the reasons for the difficulty, and why the lack of transparency might be a serious problem for our country.
Part of the problem in getting accurate information, as described in The Federalist, is due to our government's unwillingness to publicize anything that assists the terrorists, so they label the information classified or "in line with standard practice to protect ongoing investigations and operations."
According to Todd Bensman who works for the Center for Immigration Studies, there actually is some coordination in catching suspects:
American, Panamanian, and Costa Rican law enforcement and intelligence officials are engaged in actual programs here to hunt, investigate, and deport real terrorist suspects who are, in fact, discovered among the thousands of migrants from the Middle East, Horn of Africa, and South Asia funneling through this section of Latin America—as President Trump said and as I saw and heard on the ground.
Please note, however, that these "terrorist suspects" are deported, because they haven't committed a crime. Also, CIS reported that 100 migrants were caught either in the US or en route, because they were on the US terror watch lists.
Unfortunately, Costa Rica and Panama have a catch, rest, and release policy called "Controlled Flow"; that's correct—they can stay in camps to rest, before they are released. Many of those coming into Panama make their goals clear: they're on their way to the US. That suits Panama just fine.
Efforts are made by Panama to shut down information leaking out about the presence of terrorists. After six terrorists were deported, the reasons weren't publicized:
But Juan Carlos, political editor for La Prensa newspaper in Panama City, said his paper was told the Pakistanis were arrested on suspicions that they were associated with al Qaeda and after they were seen taking photos of sensitive sites around the city, including the Panama Canal.

'The government closed out all information about that news,' the journalist said, adding that this wasn't the only such case. 'Other (terrorism suspect) cases were shut down too. So officially, we have no news to report.'
The US continues to implement programs, such as "Bitmap" which trains Panamanians and Costa Ricans to collect retinal scans, fingerprints and facial photographs, and submit it to the US. The information is run against international terrorism databases.
We can add this to our list of "other border protection strategies."
Senator Ron DeSantis ran on a platform that included terrorism as a growing threat, but no data was supplied. A report from the Texas Department of Public Safety in 2015 was cited in an article from the Houston Chronicle (which they supposedly had obtained improperly) and provided some alarming numbers:
Along with human traffickers, drug-cartel and gang members, law enforcement personnel in recent years had several run-ins with so-called "special interest aliens." These are people coming into the United States from 35 Middle Eastern, African and Asian countries associated with terrorist groups.

Texas reported 439 cases of people from these countries — including Afghanistan, Iran, Iraq, Lebanon, Libya, Pakistan and Syria — either caught crossing the border or presenting themselves at ports of entry without permission to enter.
Since this information wasn't willingly provided to the public, skeptics abound regarding the seriousness of the terror threat.
Here's how I see the problem about the potential for terrorist acts by dangerous players crossing the border:
The public has no ready access to information about terrorists trying to come through the border illegally, so there is no sense of urgency to protect the border.
As long as "potential terrorists" are identified through the watch lists, but have not committed crimes (since they are often sent home before they cross the border), they can't be arrested.
If a terrorist is not on a watch list and has no identification, he will likely not be apprehended.
The vitriol towards Trump discourages many from the Left and Right from helping his cause for the wall.
Since there's been no terrorist attack recently in this country, the Democrats in particular see this as a political fight, not one of national security.
When Kirstjen Nielsen tried to present the latest Homeland Security information on the border at a briefing session, she was shouted down by Nancy Pelosi. Clearly Ms. Pelosi has no sense of urgency.
The safety and security of this country, particularly regarding terrorist acts, are in a precarious state.