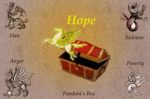 Dear Mr. Romney:
I read your opinion piece in The Washington Post under the interesting heading: "Democracy Dies in Darkness". You called it: "The president shapes the public character of the nation. Trump's character falls short."
You say, "A president should demonstrate the essential qualities of honesty and integrity, and elevate the national discourse with comity and mutual respect. As a nation, we have been blessed with presidents who have called on the greatness of the American spirit. With the nation so divided, resentful and angry, presidential leadership in qualities of character is indispensable. And it is in this province where the incumbent's shortfall has been most glaring."
If the president shapes the character of a nation to a degree, what if that shape created confusion, division, and fueled anger under a one size fits all mantle called hope and change? You gave President Trump some credit, but do you realize the impact that his policies have had so far? Crime is actually down in Chicago for the first time? Could it be because unemployment among minorities is at the lowest its been in decades?
As President Trump entered office I think he looked for honesty and integrity, starting with our justice system and found glaring shortfalls to say the least. Do you remember Peter Strzok and Lisa Page? How about destroyed emails, bleach-bit servers and the spider web called Fusion GPS?
As President Trump entered office eight years of resentment, anger and division were already in place. Eight years of spewing out phrases like white privilege, intersectionality, being too male, and gender-neutrality. At Christmas dinner, someone mentioned neighbors who are letting their three-year-old son determine his sex. They put a dress on him and braided his hair. Three years old. Trump found a drug epidemic, a rise in teen suicides and cyber-bullying. Where was the promised hope and change?
You state: "Several allies in Europe are experiencing political upheaval. Several former Soviet satellite states are rethinking their commitment to democracy. Some Asian nations, such as the Philippines lean increasingly toward China, which advances to rival our economy and our military. The alternative to U.S. world leadership offered by China and Russia is autocratic, corrupt and brutal."
When Trump entered office he found an already emboldened Russia and China, who had plenty of time to make gains politically, financially, and militarily as the last administration stepped into the background on foreign policy. During that time, a group called ISIS formed and tore human life to shreds. They were called the JV team of terror. The Middle East was on fire.
You also said: "Our leaders must defend our vital institutions despite their inevitable failings: a free press, the rule of law, strong churches, and responsible corporations and unions."
When Trump entered office a free press gave token amounts of time to the silencing of free speech on campuses across the country, the harassment of Christians and churches across the world, the increase of Antisemitism, the spiraling of the healthcare industry under The Affordable Care Act, and instead focused on picking apart the new administration even before their new pencils needed re-sharpened. There was nothing this administration could do right.
When Trump entered office the European populist movement was already well underway. Trump didn't create the Paris we are seeing on the news. Europe was glad to have America pay most of their defense tab, so they didn't have to think about it. They were stunned for a few days while Russia sailed its military might through the English Channel onto the Middle East, then went back to letting America worry about it.
I lived in Massachusetts when you were governor. I was a newly minted Republican and voted for you. I also voted for you in 2012 as president. That was six years ago. It feels like sixteen. What has happened to our country and the world in a short amount of time is nothing short of shocking. Your opinion piece sounds like a campaign speech that might have worked back then, when you ran for president. Back then you also knew better. Obama once told you the cold war was over and the 1980s wanted its foreign policy back. You were right and he was wrong. His foreign policy, and lack of leadership on many other fronts is why we have a Donald Trump for president. Review this segment through the lens of where we are today – only six years later.
With all due respect, if this opinion piece is a presidential campaign launch, I won't be voting for you again. If you can do great things as a senator, bold things, and call out with clarity, for truth and justice on behalf of the American people, like Tre Gowdy and others have done, then you will inspire hope, and be doing what the people in your state have elected you to do. I believe you are a good man. Good luck, Senator Romney.