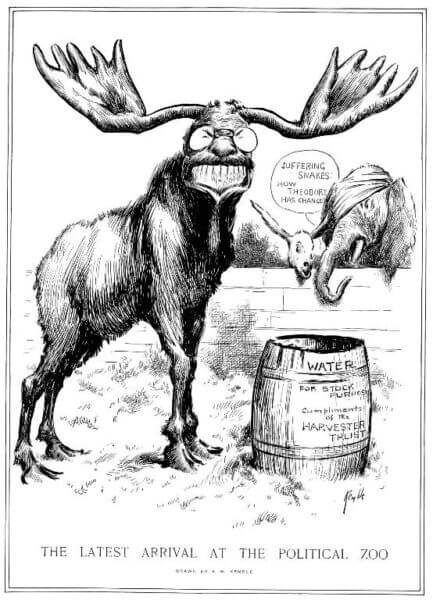 Election of 1912
Woodrow Wilson (Democratic): 435 EV (6,293,152 votes)
Theodore Roosevelt (Progressive): 88 EV (4,119,207 votes)
William Howard Taft (Republican): 8 EV (3,486,333 votes)
Theodore Roosevelt was McKinley's Vice President when McKinley was assassinated in 1901. Roosevelt was re-elected President in 1904. However, because of the tradition of two terms originated by George Washington (not yet made a law), Roosevelt did not run in 1908 but supported William Howard Taft who became President.
In 1912, Roosevelt, disappointed with Taft and having his ego inflated by his huge personal popularity, decided to ride the tide of the new progressive movement. He jumped party and ran against Taft on the new Progressive Party ticket now nicknamed, "The Bull Moose Party."
The results were all too predictable. Roosevelt split the normal Republican voters right down the middle. If you add his total to Taft's total you'd get 7,605,540 to Woodrow Wilson's 6,293,152.
It seems very likely that a Republican candidate of a united party would have beat Wilson in 1912. Immense energy was spent by Taft and Roosevelt attacking each other. If such energy had been concentrated against Wilson, it is doubtful that Wilson would have polled as well as he did.
It is true that demanding lockstep party loyalty destroys the very reason for democracy in the first place. Democracy, at a minimum, gives the people a chance to endorse what they like and veto what they don't. In a two-party, fixed, scheduled election system (no parliamentary snap elections), however, the cost of disunity can be high. If you are talking about an American presidential election and all that rides upon it, the cost of disunity is maximally high.
Still, people must have their own view. If, however, it is not really their own view that they want but their vanity flattered, then disunity can turn into a tragedy of Greek proportion. Were Taft's views so repellant that it was worth Roosevelt trying a wild third party run to unseat him? Was it really Teddy's politics that made the difference or was it just his ability to appeal to the crowd?
I'm sure there are professional historians with massive statistical databases who could attempt to answer these questions empirically. Obviously, I can't do that for this post. What I can do is talk about the difference between who we want to be and who we are.
We all have aspirations. Aspirations are generally good. They give us a goal to shoot for. Even if we don't make it all the way, we make it farther because we tried.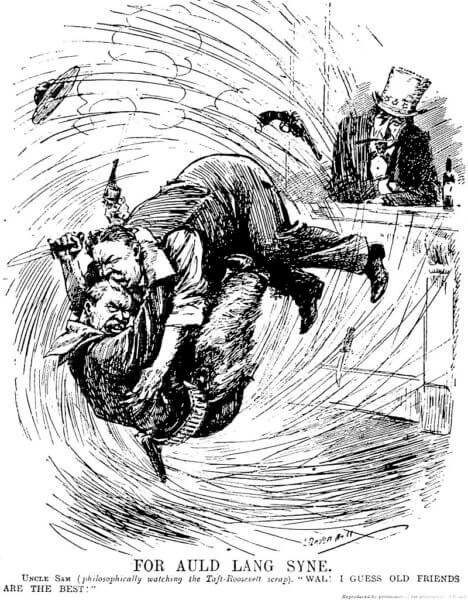 Unfortunately, sometimes we want something that we really shouldn't have. We already have what is important and so we risk the important to chase after fools gold. The calamity is sure to follow.
Woodrow Wilson looked the part and was willing to act the part. On closer inspection, however, the narrowness of the man would probably have been revealed. He was both a blind idealist and a racial bigot cloaked in the grandest of sophisticated ideas. A tough campaign where the focus was on him and him alone might have revealed his flaws under more intense light.
As is so often the case with "idealists," Wilson first was very anti-war and ran on "he kept us out of war" in 1916. Then he gave way to the realpolitik he had ignored and plunged us into war with abandon. Never the kind of man who could lead a broad coalition, after the war Wilson didn't know how to make a satisfying armistice or a functional League of Nations. Even his illness was mishandled. Instead of accepting reality and revealing it, Mrs. Wilson maintained the facade and was even more ineffective as the shadow President.
We are free to express ourselves but when our own egos get the best of us, we can make colossal blunders with long-range ramifications. It is important in a democracy that both mature citizens and mature leaders consider their actions in light of the upside and the possible downside.
The present Republican Party is badly split between the grassroots and the upper echelon. The grassroots have proven that it can't consistently elect enough senators to control the Senate. The upper echelon has proven that it can neither win nor hold the House. Trump appears as a third-force that is completely outside the Party but serves the Party's interests anyway. One can't help but feel that if all three of these components could be put together in a functional team alliance then victory and success would ensue.
Is Trump's character so awful that we would risk destroying a well-functioning conservative American presidency because of it? Were the Tea Party people so crude that they had to be marginalized even if it meant losing the ground game that had brought success in the House? Are we so frustrated with the "Beltway" that we take it out on old Mitch even though he is doing a decent job of handling the Chuck and Nancy show?
How a president shapes the public character
It is not that all of the president's policies have been misguided. He was right to align U.S. corporate taxes with those of global competitors, to strip out excessive regulations, to crack down on China's unfair trade practices, to reform criminal justice and to appoint conservative judges. These are policies mainstream Republicans have promoted for years. But policies and appointments are only a part of a presidency.
I have been very patient these last two years. I assumed that mature minds would make a peace with present circumstances and not try to fight reality. I find little evidence of this. Catastrophe is likely unless people start dealing rationally with the cards that Gd has dealt us. One must pray that we won't go on a wild Bull Moose chase that will end badly. To imagine that an ill-defined sense of "character" is more important than policies or Supreme Court Justice appointments is to stretch credulity beyond any reasonable limit. This is an unlimited license to go on a wild Bull Moose chase ad infinitum. Better chill out now before real disaster strikes.
If you need motivation, just think of Woodrow Wilson and that will surely propel you in the right direction.