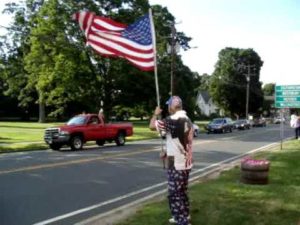 Known to the residents of Connecticut as Ziggy the Flagman, Zeqir Berisha passed on Christmas Day. An immigrant from communist Kosovo, Zeqir adopted and loved this country. In Connecticut, Ziggy was an absolute icon of America.
Some misunderstood both his passion for this country and his fear of encroaching communism — a passion and a fear that refugees from Marxist states often show. Others however, a bit more deplorable, understood these perfectly. And this polarizing presence is what made him an icon.
I expect his wake Sunday to be accompanied by a display of flag bearing crowds usually reserved for the passing of a beloved politician. And I also expect there to be an outpouring of condolences and offerings from Connecticut refugees across the nation.
Requiescas in pace, Zeqir: Patriot, Icon, American.