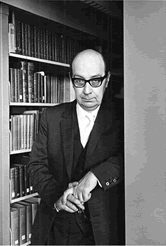 Of all of the things one could accuse Philip Larkin of, rightly and wrongly, being a philosophical conservative or a Christian poet would hardly make the list. While he displayed certain instinctively right-wing attitudes and was by all accounts an admirer of Margaret Thatcher, Larkin hardly fleshed out a grand theory of conservative being or thought, and his pronouncements on religion certainly place him very far from any church. Yet, one of his lesser-known poems "Vers de Société," is both an exploration of the decay of traditional society transposing itself upon the life of one man, and of the tragic almost-Christian, a thinly veiled autobiographical narrative.
Framed within an unnamed narrator's thoughts on, and correspondence about, a party invitation, "Vers de Société" encapsulates in remarkably few words the conservative critique of modernity. The narrator reflects pensively upon all of the time that he has already wasted at parties that he knows will be quite similar to this one, conversing about little because his interlocutors know nothing beyond the present day; his time would be much better "repaid/Under a lamp, hearing the noise of wind." However much he wishes to engage in study, to use his precious free time in pursuit of the wisdom of ancestors, he knows very well that "All solitude is selfish" in the view of modern society.
His only way to express acceptable piety is to be seen, because these social gatherings have replaced the little platoons, like an organized faith community, that would have been the center of life fifty or a hundred years before. But God has fled and real mystics, men who probe, as the poet does, at the open wounds of life, are unwelcome as reminders of some tradition greater than glossy magazines and vapid calls for equality. The poem, on this plane, is transformed into a stunning indictment of modern society, content to act without God or precedent, and comfortable only insofar as reflection is far away. Inextricably linked with this thread of the poem is a tragic vision of the near-Christian.
Much of Philip Larkin's oeuvre is focused around the beautiful almosts of every human life. The almost belief in enduring romantic love that is poignantly remembered in "An Arundel Tomb" or the almost realized tenderness which makes "The Mower," so saccharine from any other poet, so moving from him. In "Vers de Société," we are invited to see the failed pilgrimage of an almost-Christian, the thinly veiled Larkin, in literary miniature.
At the start, the narrator has begun a letter, "Dear Warlock-Williams: I'm afraid—," but is interrupted by his own musings on society, solitude, and the Almighty. With rapidity, he acknowledges that the time he spends at social events "has flown/Straight into nothingness," stealing precious time for the solitude and reflection so essential to a fully realized Christian existence. And yet "No one now/Believes the hermit with his gown and dish/Talking to God (who's gone too)"; the transcendent has ebbed out of society, and with it any view to solitude as something other than a force for destruction or, at the least, a waste of hours, when none will be had after this life.
In the penultimate stanza, Larkin's narrator finally acknowledges what the true meaning of these constant social niceties are, that they are replacements for the traditions and modes of life which undergird Christian existence and, by extension, English society for centuries. With an echo of desperation, he asks a question that he already knows the answer to, do these rituals "show[s] us what should be?" As quickly as he has found the truth, though, the narrator retreats, cursing the unease which solitude, filled with reminders of "failure and remorse," brings him now.
He returns to the letter that he began at the poem's start, revising his message to "Dear Warlock-Williams: Why, of course—." For all of his incisive brilliance, the narrator, and his poet, will never escape the ennui that pushes him in ever more meaningless directions, will never make more than an almost step in the direction of anything truly permanent. Philip Larkin died fourteen years after the publication of "Vers de Société," no closer to marriage, faith, or a fulfilling permanent career than he had been when it was written.
In his poetry and his life, Philip Larkin presents a forceful and mature critique of modernity. It is not, as we see so clearly in "Here," just vulgar or ugly or repulsively tawdry, it is destructive and tragic. While the poem has no post script, Larkin's own life is a powerful substitute for what most readers would have strongly suspected; that the narrator, a modern man gifted with a fine mind and an inkling of the infinite, buried himself under ever more substitutes for eternity and perished without any lasting fulfillment.
Beyond the racist, the sexist, the misanthropic librarian, or any other number of familiar portraits, conservatives should seize the chance to show Philip Larkin as something he has never been fully appreciated as, as a powerful voice for the role of the transcendental and the traditional in creating a meaningful and cogent society. Apart from this partisan philosophical importance, we should also take his poetry as a reminder to fight for the truth and meaning inherent in every human life, to be the pilgrims that lay down their appetizers and pick up a book.
(I will link a recording of Larkin's own reading of the poem, which I think makes these subtleties all the more explicit, here.)