In the beginning was the Word, and the Word was with G-d, and the Word was G-d. He was in the beginning with G-d. All things were made through him, and without him was not any thing made that was made. In him was life, [1] and the life was the light of men. The light shines in the darkness, and the darkness has not overcome it…. And the Word became flesh and dwelt among us, and we have seen his glory, glory as of the only Son from the Father, full of grace and truth. (John 1:1-5, 14)
Thus far we have examined the first three festal icons of the Orthodox liturgical year, and in them see some of the conventions necessary to understand and interpret them (conventions such as the avoidance of over-realism, use of symbolism, a flattening of time and overlapping of events). The next Great Feast is, of course, the Nativity of Christ (Christmas), but in the interlude, I thought it time to address the icons themselves, their reason for being, why they are venerated, and what veneration even means in their context. And to do that, we should start with the prototype and, in its way, the most important icon of all, that of Jesus Christ Himself, and of one particular form — The Icon Not Made By Hands. All of Orthodox iconography is in vain if it does not point to Christ, and it is from Christ that all iconography stems.
As the Gospel of John says in its opening, "And the Word become flesh and dwelt among us, and we have seen His glory…" This is that fundamental claim of Christians, that G-d Himself took on actual and real human form — The Incarnation (which we observe as Christmas). Throughout all of prior history, G-d forbade any attempt to depict Him because you cannot depict the ineffable. Yet He came and took on human form (real flesh and blood), which we depict all the time, so this form we can depict. (I'm greatly oversimplifying this argument, however. It took 800 years, a lot of misuse of Christian imagery, two iconoclasms, and finally the 7th Ecumenical Council to sort this out.)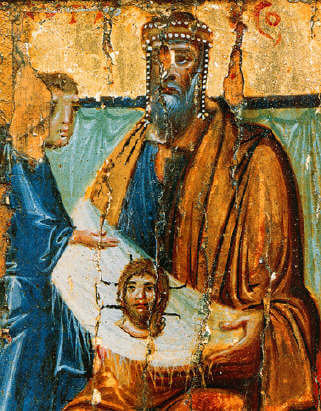 Icons, particularly of Christ, are thus an affirmation of the Incarnation. Moreover, there is one type that is considered the prototype of all: The Icon Not Made By Hands. The original of this icon is said to have been an actual image of Jesus's face — proof to the early Christians of his real and corporeal existence. There are two separate accounts of how these came into being, but the depredations of time, war, conquest, and age have obscured them. Some say that the Shroud of Turin is one of these cloths, and was somehow kept safely in the Syrian city of Edessa for centuries after the Muslim conquest, until retrieved by the warrior emperor Nicephorus Phocas, and then taken again during the 4th Crusade. Some say that a cloth kept by the Vatican, or one kept at an Italian monastery, is a cloth used to wipe Jesus's face while he carried His cross to Golgotha.  
Regardless, over the centuries many copies have been made and have taken on a common form — The Icon Not Made By Hands, or The Holy Napkin. And even if the originals have truly been lost, they and their copies still point back to the actual physical incarnation of Jesus Christ. And if we can thus depict Him, and venerate and honor His image as a sign of his actual existence, then we can also depict others who have followed Him — the saints.
Veneration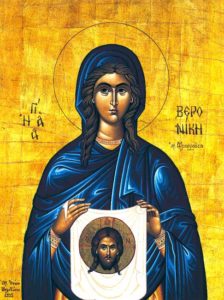 What does it mean then, in the context of icons, to venerate them? Veneration is paying respect to, and honoring, in this case not the object per se but who it depicts. When venerating before an icon, one is paying honor and showing love and affection to the person depicted, and doing so because they were a real person. This is why many will kiss an icon, it's much like kissing the photograph of someone far away or long departed — the kiss is intended for the person depicted, not the photograph itself.
Moreover, such veneration is a means of affirming and honoring their own incarnation too, their own existence. Just as Christ existed, so too did these saints. Further, as any who have died in Christ still yet live in Christ, our veneration is for those who are alive. Such veneration is not for the wood or paper or paint or cloth, but for the person whose image these materials bear. And so when entering a church, or when in private prayer, we may cross ourselves and gently kiss the icons of saints, or of Christ himself, not as a means of drawing out any sort of power, but like we would kiss the photograph of a friend or family member we wished were present. We venerate the person depicted, for who and what they both were and are. And we do so in recognition that they were and are real people, incarnate upon the Earth just as Christ, The Word made flesh, was incarnate upon this Earth.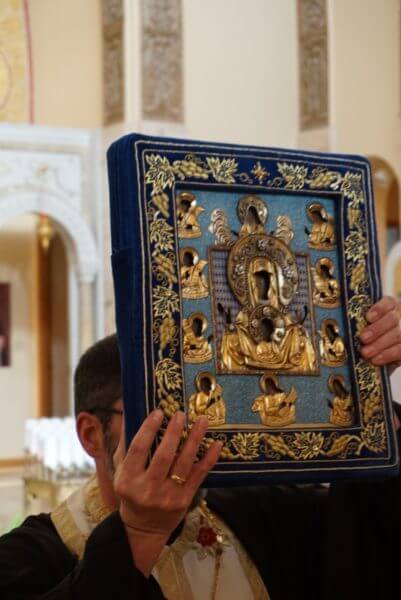 1 Crossway Bibles. The Holy Bible, English Standard Version (with Cross-References). Good News Publishers. Kindle Edition.
This essay is part of the December 2018 Group Writing Series on Veneration