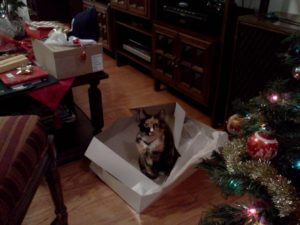 Spending my teenage years growing up in Laredo, TX, was not a particularly easy or pleasant experience. Amongst the many annoyances one had to deal with in a culturally isolated South Texas border town was a lack of quality English-language programming on the radio. If you weren't into silly bubble-gum pop or a multitude of Spanish-language musical genres, you were out of luck. Thus, I had to rely heavily on AM radio stations broadcasting from San Antonio, some 150 miles up I-35.
Among the ones I listened to most were KTSA 550-AM, a talk radio station (on which I would discover a dynamic young conservative talk show host named Rush Limbaugh in June 1991) and KKYX 680-AM, a country music station that every Friday featured a college football program hosted by then-Texas Tech head coach William "Spike" Dykes.
While listening to the latter in December 1990, a beautiful, sentimental song was played over and over again. The name of the song was "Calico Christmas." It had wonderful lyrics, telling the story of a soldier stationed overseas who was missing Christmas in his Texas hometown, dreaming of his bride in her favorite calico dress. It received a lot of airplay likely because hundreds of thousands of American troops had been recently deployed to Saudi Arabia during Operation Desert Shield. War was imminent, and no doubt the song helped sooth the angst of many on the home front.
However, after the winter of 1990-91, I never heard the song again. Over the years, I searched in vain at stores like Musicland, Suncoast, and Sam Goody, and later all across the internet. But I found nothing, absolutely nothing. Two days ago, that all changed. I finally tracked down the song (posted below), and the artist is a College Station-based singer-songwriter named Jack Houston. Pretty tune, ain't it?
.