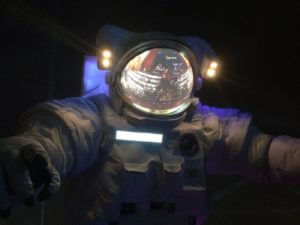 Let's take a moment and ignore the bouncing stock market. Let's cease with speculation about how the American economy will perform over the next year or two — and its possible impact on politics. Let's both pull back the camera from current events and point it toward the far horizon.
What might things be like in, say, 2040? The expert consensus predicts the same old, same old economic growth, about the same pace as we've seen throughout the 2000s. A (maybe, nearly, hopefully) 2 percent economy. Real GDP will likely grow at about half the pace of what it did in the last half of the 20th century.
And there are good reasons for this forecast, a combo of demographics (an aging society with lower birthrates) and weak productivity growth. On that latter point, the Robert Gordon argument laid out in "The Rise and Fall of American Growth" represents the baseline in mainstream thinking. All the low-hanging fruit of innovation has been picked. New inventions like the iPhone and even autonomous vehicles pale against the old such as electrification and the combustion engine. Sorry, Millennials.
But what if the future is already here, just not widely distributed? What if artificial intelligence and advanced robotics spread throughout the economy and improve, boosting worker productivity and economic growth and incomes? How about a 1990s-style tech boom that keeps on booming? That's just the optimistic prediction of the consultancy Capital Economics, as outlined in its first long-term forecast. From its report:
Over the next couple of decades, the widespread adoption of new technologies should drive a pick-up in productivity growth. That should more than compensate for the restraining impact of the ageing population, causing potential growth to accelerate.

After a short period of very rapid gains in the second half of the 1990s, productivity growth began to slow around 2004, i.e. before the Great Recession, and has remained lacklustre ever since. Since 2005, productivity growth has averaged only 1.0% y/y, compared with 2.3% during the dot.com boom in the 1990s.

Newer technologies, such as the mobile revolution, have improved leisure time, but have not had the same revolutionary impact on business productivity. Nevertheless, we know that cutting edge technologies, in particular artificial intelligence and driverless vehicles, are more likely to provide a genuine boost to labour productivity over the next couple of decades. For that reason we expect productivity growth to gradually accelerate, from little more than 1.0% over the next few years to an average of 1.6% in the mid-2020s and 2.0% in the 2030s.
So thanks, Silicon Valley. Now let's be clear what we're talking about. This wouldn't be the Singularity. Nor would economic growth be quite as fast as in the postwar period, thanks to population aging and the retirement of the baby boomers. But faster productivity growth would push the economy's growth potential to 2.6 percent. While that "would be shy of the 3.0 percent average growth rate between 1950 and 2007 . . . it would mean a breakout from the postrecession malaise, which would represent a new 'new normal.'" I like that word, "breakout."
So we're talking about a vastly larger and richer and more technologically capable American economy with 2.6 percent growth than 1.6 percent. Over the years 2026-2037, the firm sees unemployment averaging under 5 percent and wage growth averaging over four percent. So no robot apocalypse in the labor market.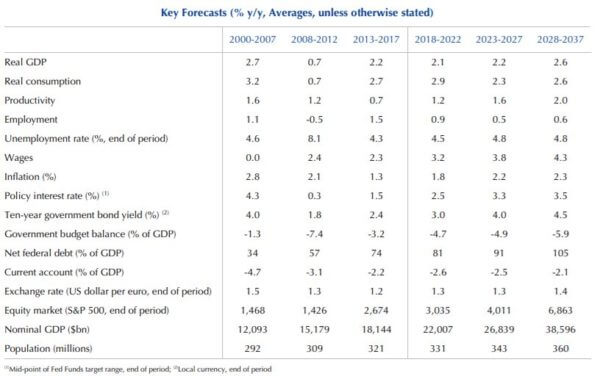 What's more, America's new normal might actually be better than China's new normal as that nation continues to move away from a market-driven economy and gets stuck in the infamous middle-income trap. From the report:
China's economy faces severe structural headwinds from slowing capital accumulation and a shrinking labour force. With policymakers showing little appetite for reforms and employment having peaked, the sustainable rate of economic growth is likely to slow from about 5% currently to 2% within a decade. We think a financial crisis will be avoided because of the government's control over the financial system and its ability to take more liabilities onto the state balance sheet. … In other words, we think China will fall off the path of rapid development laid down by the Asian growth stars of Japan, Korea and Taiwan. Instead, China is likely to increasingly resemble most other EMs whose income levels have converged with developed economies much more slowly, if at all.
Of course, the world would be better off with a more prosperous China since it would also be a freer China where the state receded and the private sector advanced. That's also a lesson for America. Let's not screw up the American Growth Machine by becoming less tolerant of creative destruction and churn. And maybe focus on doing the obvious things to facilitate growth such as greater immigration, public investment, and fiscal responsibility. No trade wars, please.
We shouldn't count on the Great Acceleration happening. Let's do what we can to make sure it does.