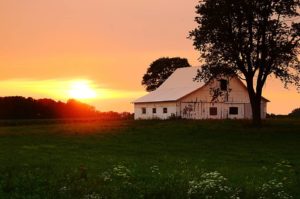 Economic nostalgia is a notable attribute of America's populists on the left and right. If not for the mistakes of elite policymakers, the economic golden age of postwar America might never have ended. But it's not just economic nostalgia that unites populists across the political spectrum. It is also the idea that reality puts no constraints on policymakers' actions, or at least the effectiveness of those actions. Take the issue of what to do about America's "left behind" regions. It's the subject two outstanding pieces, one in The New York Times by Eduardo Porter, the other in The Wall Street Journal by Christopher Mims. Both are definitely worth a read.
In "The Hard Truths of Trying to 'Save' the Rural Economy," Porter notes the "inescapable reality of agglomeration." Innovative companies, the sort that generate high-paying jobs, want to locate near other innovative companies so they can tap deep pools of high-skilled worker talent. And thus you have Amazon building new campuses in New York City and Washington DC, rather than Columbus, OH. Sure, policy wonks have lots of ideas to help distressed communities take part in the evolving American economy — tech education initiatives, broadband investment — but there are no guarantees. As Brookings scholar William Galston is quoted, "I don't know if these ideas are going to work. But it is worth making the effort."
In "Where You Should Move to Make the Most Money: America's Superstar Cities," Mims also cites the technology-driven agglomeration phenomenon as a prime driver of geographic inequality and rise of "superstar" cities: "As firms cluster around talent, and talent is in turn drawn to those firms, the result is a self-reinforcing trend toward ever-richer, ever-costlier metro areas that are economically dominant over the rest of the country."
Globalization. Automation. Rising Asia. Moore's Law. These seem like significant macroeconomic forces that were going to greatly alter the American economy of the immediate postwar decades (especially given its reliance on American industrial power in a world recovering from global war). But, but, but, the progressive populists argue, if only Washington had been tougher on mergers that eliminated the headquarters of smaller firms, or tougher on transportation deregulation, which made it harder to get there from here. Also, of course, Walmart. Always Walmart.
Then again, trade-offs. For instance: Would America have been better if transportation hadn't been deregulated in the 1970s? This from Regulation magazine in 2014: "Since most economic controls over domestic commercial aviation ended in the late 1970s, traffic has grown by orders of magnitude, inflation-adjusted fares have fallen, computerization has revolutionized the way tickets are bought, frequent flier points have become a second currency, the range of routes available — provided we are willing to change planes — has expanded out of all recognition, and low cost carriers have come, and just as often gone." (I think the easier case is to argue for more deregulation in that sector, not a reversal.)
Or this from the BLS on trucking deregulation: "In response to deregulation and the intense competition that followed, the trucking industry has changed the quality and types of services it renders. By most accounts, the resulting reductions in cost have been passed on to consumers. Today, trucking services are more responsive to our increasingly dynamic and complex economic environment, incorporating improvements in technology that have pervaded all industries."
Populists like simple stories. But maybe they have the wrong one.