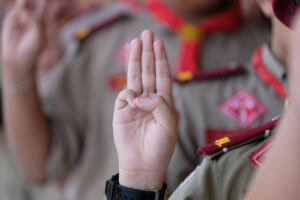 This morning, I caught a squib in The Wall Street Journal reporting that the Boy Scouts of America (BSA) is contemplating filing for bankruptcy as a consequence of "dwindling membership and escalating legal costs related to lawsuits over how it handled allegations of sex abuse."
I was aware of the decline in participation and I had a pretty good understanding of some of the causes. But I had somehow missed the fact that there was a sex abuse scandal — perhaps because 27 years have passed since it was exposed in The Washington Times and 24 since Patrick Boyle published his book on the subject: Scout's Honor: Sexual Abuse in America's Most Trusted Institution.
The article in The Wall Street Journal was strangely reticent. It did not specify what species of sexual abuse was involved. When I turned to Wikipedia, which has a good entry summarizing what Boyle and his colleagues at The Washington Times turned up, I discovered that what I suspected was true — that the misconduct involved was very much like that which plagued the Roman Catholic Church worldwide in the five decades preceding 2001. Prior to 1988 — when, in response to the problem, the BSA set up its Youth Protection Program — there had been quite a number of scoutmasters and others involved in scouting who had abused the trust of the boys and young men under their care for the purpose of sexual gratification. Put simply, in those years, pederasty was almost as much a problem for the Boy Scouts as it was for the Roman Catholic Church.
The reticence evident in The Wall Street Journal article appears to stem from the political correctness of its author and, perhaps, her editor. Here is the last paragraph in the print-edition version: "The Boy Scouts group has drawn scrutiny over its slow pace to become more inclusive, including by lifting a ban in 2015 on gay men and lesbians serving in leadership roles."
Take a moment and read that last sentence twice. Then, ask yourself what was the sexual orientation of the scoutmasters and the others involved with the BSA who abused the boys. I do not mean to suggest that all or even most of those who are homoerotically inclined are prone to the abuse of minors. I know that this is untrue. But I would suggest that heterosexually inclined men are a much safer bet.
If this claim causes you to recoil, I suggest that you ask yourself this. Suppose that you had a child — say, a pretty daughter — who was in her early teen years, and suppose that you and your spouse were going out for an evening or away for a weekend. Would you think twice before hiring a high school or college boy to look after her?
That is, you might say, a no-brainer. To hire a young man is to risk letting the fox into the hen house. Given the fact that human beings can stand up to almost anything other than temptation, the prudent thing to do would be to hire a caretaker who is most unlikely to find your daughter alluring.
In 2015, under the leadership of Robert M. Gates and Rex W. Tillerson, the Boy Scouts of America surrendered to the Zeitgeist and did what you would never do: they invited those most apt to be foxes into the hen house. Later, the BSA opened its programs to girls and transsexual boys. For the Mormons, who were major contributors to scouting, this was the last straw, and it is their withdrawal that has brought the BSA to its knees. First, in the interests of political correctness, came moral bankruptcy. It looks as if financial bankruptcy will follow.
The Boy Scouts once had a noble mission — the formation of vigorous, manly, virtuous men at home in the great outdoors. I know something about this. I was myself an Eagle Scout. Now, however, thanks to a corporate culture in the 1960s, 1970s, and 1980s less interested in protecting young people than in covering up scandals and thanks also to the moral weakness in 2015 of a former Secretary of Defense and a future Secretary of State, it completely lost its way. The demise of the Boy Scouts is a sign of the miserable times in which we now live.