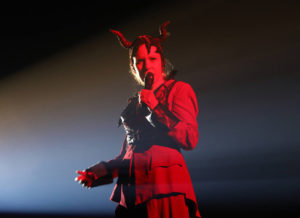 Let me say at the outset that raising money to battle the scourge of AIDS is a good thing. Doing so by putting on a satanic celebration in a consecrated Catholic cathedral is horrific. Sadly, or shockingly, that's what Cardinal Christoph Schönborn, in his wisdom, permitted in St. Stephen's Cathedral in Vienna a few days ago. As Tradition In Action reports:
A man stands on top of the altar rail of St. Stephen's Cathedral with an open camo-jacket showing his belly and holding a bottle of beer. He walks like a drunk, he sings like a lunatic, he acts like one possessed. On the same rail are skulls, candles and jars, giving the impression of a satanic orgy. During his performance other macabre and delirious-looking actors and actresses enter the scene. Then, devils appear onstage and flaunt their seductive cajoleries.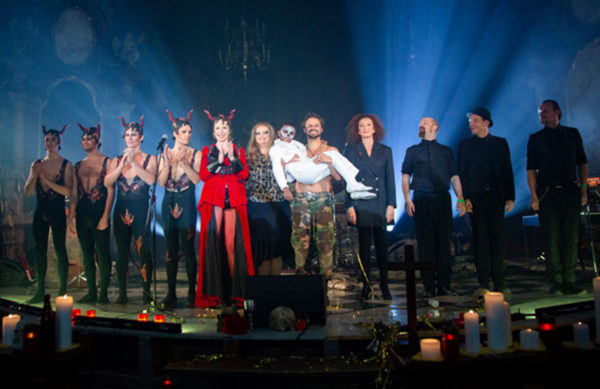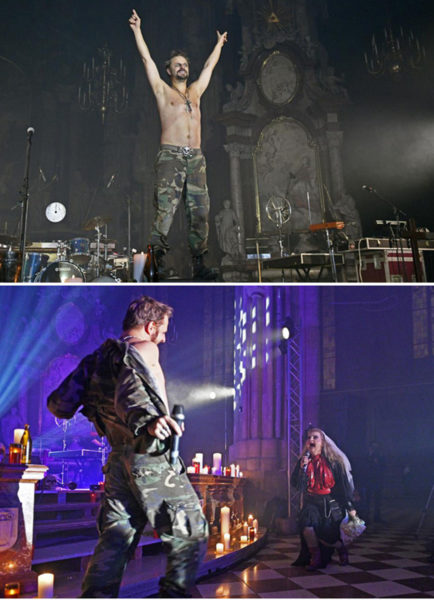 Regrettably or thankfully, no videos of this most recent desecration have surfaced. Cardinal Schönborn, in his zeal, has permitted the use of the cathedral before for raising funds for battling AIDS but also to celebrate alternative lifestyles traditionally not permitted by the Church including, according to Norvus Ordo Watch:
 …"youth masses" (that) have featured everything from a "cardinal" sending text messages during "Mass," to psychedelic vestments, role plays, stage diving, superstitious "care dolls," throwing paper planes, pornography displayed during a sermon, rock music, disco lights, artificial smoke, flame throwers, balloons, and exceptionally provocative, ambiguous, and blasphemous event theme titles (such as "Topless," "The Spirit is Sexy," and "Take It All Off").
Here is a video from an earlier celebration in the cathedral:
Father Johannes Maria Schwarz, is an Austrian priest with a great deal more sense than the Viennese Cardinal, and a greater understanding of the sacred and the profane, commented on the recent desecration as Life Site News reports:
"I am ashamed of my Church in this and in other questions," he writes. "We do not fear the Almighty anymore! Nothing is anymore holy for us! We trample upon the souls that are entrusted to us!" There would surely have been another way of promoting the "great initiative of Father Gerhard Lagleder," who works with HIV patients, Father Schwarz politely adds. Moreover, Schwarz saw that Hochmair the actor was dancing on the communion rail, "with a bottle of beer(?) and microphone" in hand, with Cardinal Schönborn observing from the first row.

The communion rail is an "extension of the altar," Schwarz pointed out.

"Did one now really forget the significance of the altar rail?" he asks. "Also at St. Stephens' Cathedral? That is to say, there where the faithful, at all Masses, still receive the Living God at that holy extension of the altar? It seems so."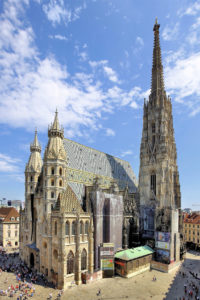 Saint Stephen is venerated as the first martyr of Christianity for promoting Christ's teaching and denouncing Jewish authorities at the time. He was tried by the Jewish authorities for blasphemy and stoned to death. Saul of Tarsus (later Paul, the Apostle) witnessed his execution. The first church honoring the saint in Vienna was completed in 1160 and was made much larger into the cathedral that stands today around 1511.
Keep in mind that Schönborn is considered in some circles to be one of the more conservative and orthodox cardinals. Not sure if those circles include pentagrams or not.