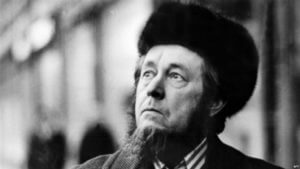 Arrested three months before the defeat of Hitler's Germany, his first reaction was like that of the millions he would later write about: "Me? What for?" A decorated captain of an artillery battery that had fought its way deep into East Prussia, Aleksandr Solzhenitsyn was at the time a committed Marxist-Leninist. He even fantasized he was being whisked to a meeting with Stalin. In fact, military censors had read his letter exchanges with a boyhood friend, also in the army, in which they criticized Stalin ("the mustachioed one") for having deviated from the path laid down by Lenin.
It was more than enough to earn Solzhenitsyn a sentence of eight years imprisonment in the labor camps, to be followed by "perpetual exile." He served all eight years in various camps, plus three years exiled to distant Kazakhstan, where he worked as a teacher of high school mathematics before his sentence was annulled in 1956 in the wake of Khrushchev's "de-Stalinization."
Born 100 years ago today, Solzhenitsyn was educated in the sciences, but his lifelong love was literature and writing. In the camps, where writing was prohibited, Solzhenitsyn used matchsticks and rosary beads as mnemonic devices to preserve 12,000 lines of his verse that he would later publish. What brought him to his country's and the world's attention, however, was the publication in 1962 of his One Day in the Life of Ivan Denisovich, a fictional but semi-autobiographical account of a day in the life of a Soviet political prisoner (zek) in Stalin's time.
The publication of Ivan Denisovich was a sensation, not least because it occurred at all. Its account of arbitrary arrests and violent, inhumane existence in the labor camps was thought to serve the Kremlin's cause of discrediting the Stalin era, and it seemed to signal a new openness in Soviet society. The moment was fleeting, however, as Khrushchev's ouster in 1964 presaged a renewed hardening among the authorities, and Solzhenitsyn found he could not get permission to publish his next two novels, The First Circle and Cancer Ward.
The leadership had not reckoned, however, with the power they had unleashed with the arrival of Solzhenitsyn as a public figure. No longer a "Soviet man," Solzhenitsyn's camp experiences, especially the rich relationships he formed with fellow zeks (many appear as characters in his works), had gradually and irrevocably turned him into an implacable foe not just of Stalinism, but of the whole totalitarian edifice of Soviet ideology. For Solzhenitsyn, it was all built on violence and lies, and he was determined to expose the truth of it to the world.
That he did. For ten years Solzhenitsyn labored secretly on The Gulag Archipelago, a three-volume account of the Soviet prison system, which he thoroughly documented began with Lenin in 1918. Parts history, memoir, and philosophy, the work also relies on the accounts of 227 zeks who reported their experiences to Solzhenitsyn. He later wrote that he produced this monumental work out of a duty to communicate "the dying whisper of millions, the unspoken testament of those who had perished."
When the KGB discovered a copy of The Gulag Archipelago in 1973, Solzhenitsyn signaled to supporters in the West that they should publish the first volume, which years earlier had been smuggled abroad and translated into French and English. In February 1974, the Politburo ordered him arrested for treason, stripped of his citizenship, and expelled from the country on a plane to West Germany. Later joined by his wife and children, they eventually settled near a small town in Vermont.
Admired as he was in the West while a Soviet citizen and dissident, in exile Solzhenitsyn's relations with public figures of both left and right were often uneasy. President Gerald Ford refused him an invitation to the White House to avoid disturbing the policy of "détente" with the Soviet Union. Harsher and more numerous were his critics on the left, many of whom seemed offended that Solzhenitsyn's humanism was not of a secular kind but derived instead from the Christian beliefs of his early youth to which he had returned. Criticism intensified particularly after Solzhenitsyn's Harvard University commencement address in 1978, in which he assailed with his usual vigor aspects of mediocrity and decadence in Western culture.
What his critics never understood is that for Solzhenitsyn, politics was never the main thing. Over the course of a lifetime, as he explained to his biographer, he had moved "ever so slowly towards a position … of supporting the primacy of the spiritual over the material," a philosophy to which all his works are a testament.
As with his literary forebears, Dostoevsky and Tolstoy, Solzhenitsyn's writings are rooted in Russian history and culture, but the themes are universal. Awarded the Nobel Prize for Literature in 1970, his speech addressed literature and its relationship to culture and the human spirit: "Art inflames even a frozen, darkened soul to a high spiritual experience." A self-described optimist, Solzhenitsyn was convinced that "[i]n the struggle with falsehood art always did win and it always does win! … One word of truth shall outweigh the whole world."
Historians generally agree that the moral force of Solzhenitsyn's writings, particularly The Gulag Archipelago, contributed significantly to the fall of the Soviet Union, the collapse of the non-Russian Soviet empire in Eastern Europe, and in the West an end to the idolization by many of Soviet communism. When it occurred, and all his writings were allowed to be published there, Solzhenitsyn returned with his wife to Russia in 1994, where he died in 2008.
Solzhenitsyn's singular legacy is like that of a true-life character he wrote about and memorialized in one of his stories. He was that "righteous one without whom, according to the proverb, no village can stand…. Nor any city. Nor our whole land."