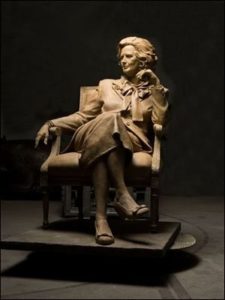 The latest brouhaha about moving a Confederate statue called Silent Sam took place at the University of North Carolina at Chapel Hill. The statue was originally pulled down in August, and now university administrators must keep it on campus; a state law was passed in 2015 prohibiting state agencies from "permanently removing or relocating state-owned memorials or statues." UNC Chancellor Carol Folt stated, "I have a preference to move it off campus, but, like everyone here, I swore to obey the law." How noble of her.
The university is considering a proposal to build a history and education center to house the statue and other historical artifacts; the announcement of this proposal on Monday led to the latest campus protest. The administrators will decide next week whether to move forward with the proposal for the new center.
Although "white supremacists" (and not normal American citizens) supposedly are the ones who have demanded the Confederate statues remain in place, many of us are probably ambivalent about these statues; they remind of us a difficult time in American history, a period of racism and violence. Yet we also know that reminders of those times are a way to demonstrate our willingness to face our past and point to the lessons we have learned.
I began thinking, however, about the implications of these removals of Confederate statues, and where it could lead us.
What other criteria could be used to condemn celebrated Americans who are memorialized in statues? We have already seen school curricula altered to support the propaganda of the Left: Christopher Columbus has been turned into a destroyer of Native Americans; George Washington and Thomas Jefferson were racists (slave owners), as were other presidents. As The Federalist points out today, Harry Truman was an anti-Semite. Other admired politicians could be targeted, such as Margaret Thatcher, who broke the unions in England.
So this is not just about removing the statues of Confederate soldiers. It might just be the first step in removing any statues of people who didn't, or don't, accept the Progressive agenda.
An interesting sidenote worthy of mentioning is that the University of California, Irvine, rejected a proposal to erect a statue to Raoul Wallenberg, the Swedish diplomat who risked his life to save 100,000 Hungarian Jews from Nazi death camps. They gave no explanation for their refusal.
Why do statues make such powerful statements? I believe they take ideas and embody them in stone, providing a visual, visceral impact. They are also continually displayed for everyone to see, making a statement about our Founders, about freedom, about leadership, and about values. Although many people over time might just walk by them without noticing them, others might stop to view and contemplate them, at least the first time they pass. These people who are carved in stone or bronze tell all who view them that they are worthy of remembering and honoring for generations.
So removing Confederate statues may just be the prelude to a larger, more insidious plan.
And statues may not be the only monuments affected. A Detroit High School has threatened to remove Ben Carson's name. Don't worry—if it happens, it won't be until 2019.