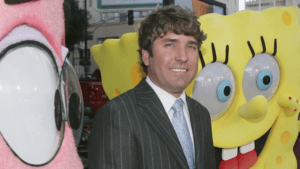 Public reaction to the death of SpongeBob Squarepants creator Stephen Hillenburg, who died from ALS last Monday, might have confused those unfamiliar with his most famous work. Here was a man being mourned across all ages and demographics, from the trades to Twitter, for creating … a cartoon made and marketed for children?

But this gets SpongeBob, Hillenburg 's magnum opus, all wrong. At its best, SpongeBob was not simply a kids' cartoon. From the beginning, Hillenburg brought to the show a unique tone and aesthetic that drew from his background in marine biology. He attended the show's pitch meeting in a Hawaiian shirt. SpongeBob, the relentlessly upbeat, cleaning utensil-shaped main character, lives in a pineapple under the sea; Squidward, his grouchy next-door cephalopod, inhabits an Easter Island head. And the opening theme song is sung by a portrait of a (human) pirate. Though a veteran of Rocko's Modern Life, another successful Nickelodeon program, Hillenburg had something all his own in mind from the start.
The result of this tonal intentionality was, at its peak, a delightful, offbeat, and sometimes surreal mix of childish humor for its purported target audience, reinforced by subtle or obscure (though never tasteless) comedy for older viewers. "Help Wanted," the first episode, which premiered on May 1, 1999 (and which I viewed then as a five-year-old), is a good example of this. On the surface, it is a silly story about a fruit-residing sponge who decides to apply for a job as a fry cook at the Krusty Krab, a fast food restaurant run by a miserly crab in his underwater hometown of Bikini Bottom, a place populated by other anthropomorphic aquatic creatures. Some puerile humor ensues; entering the restaurant, SpongeBob trips on an errant nail and proceeds to spend about a minute tripping, falling, and bouncing around. It's very silly stuff; slapstick taken just up to the point of absurdity.
Yet there is more depth to these creatures' oceanic surroundings than first appears. In the opening moments of the first episode, we hear a French-accented narrator begin to describe Bikini Bottom; he is meant to be a sort of Jacques Cousteau, describing the undersea life before him. (In a later episode, this "narrator" gets hit by a car.) And one of the musical motifs of the episode is the 1930 Al Sherman/Al Lewis song "Living in the Sunlight, Loving in the Moonlight" as covered by eccentric musician Tiny Tim in 1968. As a five-year-old, I laughed at the stuff meant for me. But the older I get, the more I appreciate the humor placed there for older viewers, as well as the boldness Hillenburg embraced in trying to mix the high- and low-brow in an ostensibly children-focused cartoon.
This hybridization worked wonders in the first three seasons of the show. As a result, it is almost impossible to understate the extent of SpongeBob's cultural pervasiveness among people of my generation and younger. All it takes is a simple quote — "Is mayonnaise an instrument?"; "CHOCOLATE!?!?; "HINGA DINGA DURGEN!"; "Wumbo"; "The inner machinations of my mind are an enigma" — to set me and my peers on a nostalgia trip/reference festival. We debate our favorite characters (Squidward is mine), episodes ("SB-129," one of my earliest exposures to time travel in popular culture, wins for me), and moments ("SpongeBob, you're never gonna feel better unless you get this thing off your chest" is hard to beat). But SpongeBob did not merely thrive among viewers who were children in its early days. In fact, its subtler humor made it not merely tolerated by our parents and other adults, but actively sought out by them: 40 percent of season two's viewers were aged 18 to 44.
Perhaps curmudgeons would argue that this fact is not an endorsement of SpongeBob but a condemnation of our infantilized culture, one in which grown adults refuse to leave their parents' basements while those parents fight desperately to deny their ages. It might be hard to persuade anyone in this demographic of the greatness of SpongeBob. But there is plenty of evidence for the possibility of animation to be high art. Witness the films of Pixar and Hayao Miyazaki, the classics of Chuck Jones, and the artistic and commercial success of The Simpsons at its peak. The best SpongeBob is of a kind with these and, I humbly submit, the heir of classic Looney Tunes and The Simpsons. Indeed, SpongeBob shares more than this with The Simpsons, for it is to my generation what The Simpsons was to Generation X.
Sadly, it also shares with The Simpsons a trajectory of decline. Virtually all of its best moments and material came from the first three seasons and the first movie. We can attribute this to Hillenburg, who had a direct hand in virtually all of it. But Hillenburg left his day-to-day role on the show after the first movie in 2004. He wanted the show to end after the movie, fearing it would jump the shark if continued, but it kept going without his direct control. A noted decline in quality followed, proving him right. Cynics might argue that I am just saying this because I finally grew up and realized the show was childish and immature from the beginning, but I would reject this; I still find the show's earlier episodes entertaining when I watch them (and yes, I still do). Later episodes have simply lacked the wit, the verve, and the subtlety of what came before.
Alas, now that Stephen Hillenburg has left us, I have little hope that SpongeBob will return to its former greatness. But he has already secured a legacy, and an immortality among all SpongeBob fans, young and old. It was Stephen's show, Mr. Krabs. He was number one.