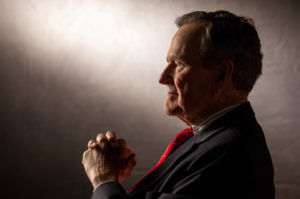 An excerpt from my remembrance in the New York Post:
Graciousness and toughness. Contradictory attributes though these may seem, in George Herbert Walker Bush they existed in equal, remarkably abundant measure.

Start with the toughness. After the Japanese attacked Pearl Harbor, the future president could have stayed in school. Instead, he enlisted in the US Navy at age 18 and became a pilot a year later. By the time he was 20, he had flown 58 combat missions, including one in which he was shot down and found himself floating in the ocean for hours before a submarine rescued him.

Postwar, Bush could have stayed on the East Coast and followed his father to Wall Street. Instead, he became an oil wildcatter, moving his bride, Barbara, to a Quonset hut in Midland, Texas.

When he entered politics, Bush could have made his rise a lot easier if he had become a Democrat. Instead, he remained a Republican, adamant that Texas needed to become a two-party state. It did — but not before Democrats walloped him both times he ran for the Senate.

The graciousness? That appears most vividly in small incidents, when there could have been no doubt that he was simply being himself, not appealing to reporters or posing for the cameras.
Read it all here.