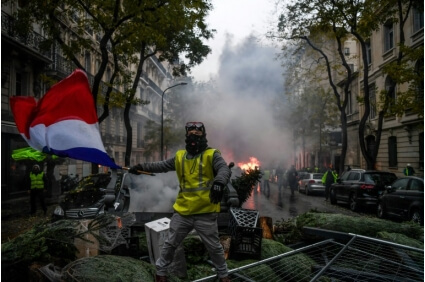 The City of Paris is no stranger to civil unrest. The wide boulevards in one of most beautiful cities in the world were designed to accommodate cannons that could deliver chain, and grapeshot to put down rebellion.
The Global Warming advocates have supplied some fuel and matches to start the fires of the current unrest in France, but it is not the only cause of the widespread unrest in France. Groups from the Left and Right have found some common ground in the rioting that is taking place throughout France.
According to the NY Times, the tax rate is around 40% of the working man's income, not counting the new surcharges for gasoline and diesel. Rural areas would be hit the hardest, and have already been hit hard. The unemployment rate in those areas is at 10%, and rural hospitals have been closing forcing those residents to drive longer distances to obtain health care. Health care that they are paying for, but difficult to obtain. The cost of food will increase as solar powered, and electric tractors are non-existent.
Deputy interior minister Laurent Nunez said that emergency measures were "one option among others," but he said it was "not on the table for now".

Economy Minister Bruno Le Maire said that solution for tackling low purchasing power for struggling families lay in reducing the tax burden in France, which is among the highest in Europe.

"We must speed up the reduction of taxes," he said. "But for that we must speed up the decrease in public spending."
French President Macron has no desire to yield to tax reduction, or to decrease public spending.
Macron's task now is also complicated by his own desire not to yield to France's street protests, which in the past have repeatedly forced his predecessors into U-turns.

Jacline Mouraud, one of the protest movement's prime instigators, told AFP that scrapping the fuel tax was a "prerequisite for any discussion" with the government.

French President Emmanuel Macron appears determined not to roll back on the unpopular fuel tax hikes Macron, a 40-year-old centrist, was elected in May 2017 on a pro-business platform that promised measures to incite companies to invest to create jobs.

Immediately after coming to power, he pushed through tax cuts for entrepreneurs and high-earners — policies that have become a lightning rod for anger among the so-called "gilets jaunes" or "yellow vests".
The yellow vests refer to a French law that mandates all motorists must have a yellow vest in their vehicles. The truth of the matter is that the middle class is the most vulnerable to high taxes. This is where most of the money is earned, and as Margaret Thatcher said, you eventually run out of other people's money.
As the Democrat Party salivates and slobbers over the new socialists that will arrive in Washington DC they would do well to remember this, unless they wish to see an increase in the purchasing of yellow vests.