We had a blast talking with Jon Gabriel on The Urbane Cowboys Podcast. It was very kind of him to take time to appear on our little show. We discussed the latest in Twitter's recent spate of suspending and deplatforming people like Laura Loomer, Meghan Murphy, and Jesse Kelly. (Jon wrote about it here).
It's my contention that Twitter's reinstatement of Jesse Kelly was a success for free speech and the free markets. Consumers flexed their muscles to call for Kelly to be reinstated. Twitter responded. Although Twitter arguably mishandled the situation, this demonstrates that it's not necessary for the government to step in and regulate the content of social media platforms.
[I tried to get Jon to call for Stephen Miller's suspension from Twitter for calling for an unprovoked war against peaceful Canada. But he didn't bite.]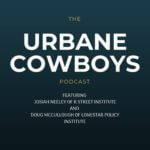 .