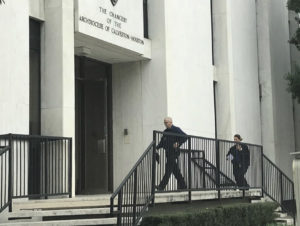 After all the anger that has been simmering toward the Catholic hierarchy in America and in Rome for the dismissive and deceptive way in which it has responded to the generations-old sexual abuse crisis, where priests and bishops have preyed on children and seminarians, it may fall to American law enforcement to begin the effort to cleanse the Catholic Church.
News broke today that offices for the Archdiocese of Galveston-Houston, TX, which is the office of Cardinal DiNardo who currently presides over the US Conference of Catholic Bishops, have been raided by law enforcement officers with warrants to gather information pertaining to the case of a priest accused of molesting children who was reassigned to another parish. From KHOU in Houston:
This is the fourth search warrant executed for documents pertaining to LaRosa-Lopez. A man and a woman claimed they were abused as teenagers by LaRosa-Lopez between 1998 and 2001 at the Sacred Heart Catholic Church in Conroe.

Since his arrest, authorities executed search warrants at Sacred Heart, St. John Fisher Catholic Church in Richmond, where LaRosa-Lopez was a priest until his arrest, and the Shalom Center in Splendora. The Shalom Center is a treatment facility where LaRosa-Lopez spent time in 2001 after his first accuser came forward.

Both people accuse Cardinal Daniel DiNardo, who oversees the Archdiocese of Galveston-Houston, of not doing enough to stop La Rosa-Lopez. One of them said DiNardo promised her that the priest would be removed from any contact with children, only to later discover that LaRosa-Lopez remained in active ministry at St. John Fisher Church.

The Archdiocese previously said that LaRosa-Lopez denied the allegations in the criminal charges. The church claimed it notified Child Protective Services after his first accuser came forward, but in court records, police stated they were never able to locate such a report.

LaRosa-Lopez is currently free on $375,000 bond and is due back in court on Jan. 10, 2019.

Ligon said Wednesday's search turned up documents about potential criminal activity involving other priests, the Texas Rangers would investigate that information. Additionally, a Pennsylvania federal prosecutor last month put Cardinal DiNardo on notice, in his capacity as President of the U.S. Conference of Catholic Bishops, to preserve all sexual abuse-related documents at any Catholic diocese across the country.
The raid comes after two federal RICO lawsuits were filed this month against the Church in Washington DC and Minnesota respectively. It may take some time for law enforcement to gather the information necessary to present their case including deposing high-ranking bishops and cardinals with direct knowledge of the activities of clerical predators and those who covered up these crimes.
One rather troublesome quote from the KHOU story that the Vatican may want to take note of is the following:
"We're treating the Catholic Church the same way we treat a bank that has records, the same way we treat a criminal enterprise," (Montgomery County District Attorney Brett) Ligon said.

And if the investigation takes him to the Vatican, "I'll be heading to Rome," he said.
Given the two RICO cases and this action, numerous clerics in America may be facing jail time especially if they give false statements to investigators. I'm sure that many are well represented by well-paid attorneys but federal authorities may at some point restrict the ability of some priests, bishops, and cardinals to travel out of country in attempts to seek asylum in Italy or Vatican City in particular.
To the degree that happens and happens prior to February of next year, when Pope Francis has called his conference on clerical sex abuse, that would be quite the embarrassment to the current pontificate.
Stay tuned.