What do you do with your Thanksgiving leftovers? I imagine some of you get quite creative.
It's possible desperation, not creativity, inspired the day's menu presented below, but for your delectation, I thought I'd share it: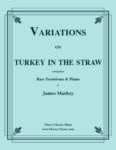 ***
Menu:
*
Breakfast:
Popcorn and Pie with Caramelized Cream
What it is:
What it says.
Why you eat it:
Because the family needs a breakfast taking near-zero preparation in order to get out the door on time. Plus, both popcorn and pie taste good with coffee. The cream is caramelized because someone topped the pumpkin pie this year with a thick layer of whipped-cream frosting, a layer which melted and browned when you warmed the pie slices in the oven. Popcorn, a classic New-World food, is a fitting addition to any Thanksgiving feast, and is probably better for you than many breakfast cereals — not that "better for you" is really operative when you're starting the day with dessert.
*
Lunch:
Thanksgiving Mashup
What it is:
Stuffing mashed with squash, sweet potato, gravy, chopped turkey and green beans.
Why you eat it:
Because even the cuisinier agrees that this year's stuffing, while flavorful, turned out denser than plutonium and stickier than fly paper, so that mashing it with leftover squash and sweet potato actually lightens it. The gravy adds much-needed lubrication, while the chopped turkey and green beans complete the flavor profile — it's an entire feast in every bite!
*
Dinner:
Turkey in the Slaw
What it is:
Slaw veggies combined with shredded turkey, then tossed with your choice of slaw dressing — we mixed ranch and vinaigrette.
Why you eat it:
Because the post-Thanksgiving blizzard delayed your weekly trip to the grocery store, and you've used up nearly everything in the fridge but the Thanksgiving turkey shreds, a single packet of ranch dressing (acquired from heaven knows where), and a forlorn bag of undressed slaw. This salad, born of pure desperation, turns out to be surprisingly tasty.
*
Dessert:
Chocolate-Covered Pineapple with Grape Kebabs
What it is:
Exactly that — fruit, on a stick, with some chocolate.
Why you eat it:
Because someone brought one of those Edible Arrangements for a Thanksgiving centerpiece, and eventually an Edible Arrangement ought to be eaten. Half the pineapple rounds, cut into decorative shapes, have been dipped in chocolate, a combination tastier than it might sound. Grape kebabs are apparently the baby's-breath of the Edible Arrangement world, artfully filling out the arrangement without distracting the eye too much from… well… stuff like the chocolate-covered pineapple.
***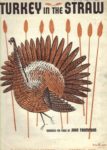 Well, there you have it. An entire day's worth of Thanksgiving leftovers. In truth, we had these leftover meals interspersed with other meals over the span of a few days, rather than packing the menu into one day of marathon leftover-eating. It did use up all our leftovers, though.
What have you done with yours?