In the past, Ricochet has hosted point/counterpoint articles — a phenomenon I was pleased to take part in. My desire is to revive that tradition and the opportunity has presented itself with a new interlocutor: Fred Cole.
The subject we are going to discuss is the contentious topic of immigration. I also believe in telling you where I sit before I tell you where I stand. So, in the spirit of full disclosure, my readers should know that I work for a firm which is owned in part by a legal resident alien – a legal resident alien in possession of a Doctorate in Geotechnical Engineering who immigrated to the United States via legal processes.
I reject utterly any assertion that my positions derive from Xenophobia, Racism or any other "ism" or "phobia." Over the years, I have tried to make my position here at Ricochet clear: I am in favor of a skills-based immigration policy in the mold of Canada's or Australia's points-based systems. I am opposed to all low-skill and illegal immigration. There are other forms of immigration as well, such as those applying for refugee status or asylum. I am generally opposed to these as well with a few exceptions that I will explain.
Having cleared the ground for this argument, it seems to me that the first question which needs to be answered with regard to the topic of immigration is: What is the purpose of having such a policy in the first place? The primary purpose of immigration in my estimation should be first and foremost to help Americans. By that, I mean that the position of the Government of the United States should be strongly biased towards improving the lot of Americans' lives, with the secondary consideration being how that affects the lives of potential immigrants. An immigration policy reflecting that principle would only invite people to participate in our country who have a strong likelihood of adding to the nation's economic might and moral capital. How would we accomplish this?
Now, I'm a Baseball fan and I try not to have a lot of sentimentality about individual players. The bottom line for me is "wins" because that is, in the end, the only metric that helps you win you the last game of the season. So, when thinking about how to assess a player there are a variety of metrics one can use to judge whether or not that player is likely to be a net addition to your team or a net drain. The relatively new metric WAR (Wins Above Replacement) is a handy means of comparison between any given player and a theoretical average of players at that position (a theoretical "replacement") across the Major Leagues. In a similar sense, a prospective immigrant to America who is going to accomplish the goal of adding to the nation's economic might ought to have a WAR greater than that of the median American. How we measure such a thing can come via a variety of means – perhaps an individual seeking citizenship or residency is already wealthy, or perhaps they are a professional athlete or entertainer who stands to earn millions of dollars. Perhaps they have extraordinary technical skills of one type or another which will allow them to earn a large salary in a profession which is in great demand.
To complete the baseball analogy, the United States is the biggest and most successful Major League Franchise in history, and we have the prerogative to pick and choose whom we allow to come into our country and play for us. It makes perfect sense to only select those people whom we have reason to believe will make life better for existing Americans by contributing their energy, know-how and financial resources to the country.
This statements of general principle are, I think, entirely reasonable and free of arbitrary and capricious bias. It's worth comparing these notions to the policy we currently follow, which is one focused primarily on "family reunification," irrespective of financial or other considerations. Family Reunification is largely responsible for what is known colloquially as "chain migration" and has led to net legal immigration to the United States of near or more than a million persons per year since the 1990s.
The result of this unprecedented level of legal immigration (for an unprecedented period) is that we are approaching the largest share of foreign-born residents in our country's history, with the absolute number of foreign-born residents exceeding the population of the State of California: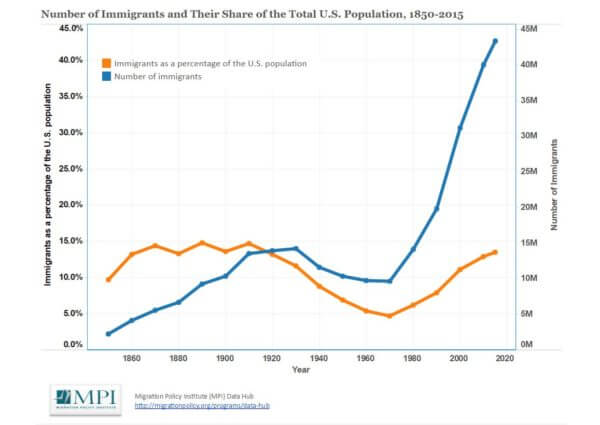 (See the Migration Policy institute for original data)
Given this huge influx of people from a huge variety of countries, it makes perfect sense for the government to ratchet down the net inflow of immigrants – if for no other reason than to allow the current crop of foreign-born to assimilate to life here in America, as a continuous flow of ethnically native persons arriving in a community has the effect of actively inhibiting the process of assimilation.
Who said that? Why, immigrant Reihan Salam did:
"The danger, as I see it, is that as the logic of the melting pot fails to take hold, and as more newcomers are incorporated into disadvantaged groups, the level of inter-ethic tension will skyrocket, to the point where we'll look back wistfully on the halcyon politics of the Trump years. Preventing this nightmare scenario should be our number one priority. Instead, we are sleepwalking right into it." (Melting Pot or Civil War?, pp 65)
Indeed, if you're the sort of person who disdains things like "nativism" the path towards increased balkanization and more of that lies in force-feeding the people who are saying "enough!" more of the same.
So, we've covered what immigration's goals ought to be, and what it should consist of. That begs the question: what ought it not be?
The answer is three-fold: Immigration ought not be the lawless situation we currently have with regards to illegal immigration and it ought not be the fraud-riddled disasters we have in the form of "diversity lotteries" and fake asylum and refugee claims. These are actually somewhat different things and we should handle them separately.
The first prong that needs to be tackled is the question of asylum and refugees. The United States Government recognizes the right of certain persons to request asylum or refugee status in the US for a variety of reasons. The very notion of asylum or refugee status implies first and foremost that you are a person seeking temporary shelter from some natural or man-caused disaster. The key word here is "temporary." The trouble is, once people achieve these forms of legal status, there seems to be very little that is "temporary" about it.
For instance, in 2001, El Salvador was struck by a 7.6 magnitude earthquake. Over 200,000 El Salvadoreans were granted refugee status of one kind or another and resettled here in the United States. Again: this status was supposed to be temporary and as such, was subject to renewal at 18-month intervals. It's now 2018… 17 years later. Presumably, the earthquake and the conditions which precipitated the need for people to flee from El Salvador have abated? Yet only now, after interminable renewals of their temporary status through 3 Presidential Administrations is the Trump Administration considering not renewing it, which could result in these refugees finally going home. This is merely the tip of the iceberg when considering the number of such refugees from a variety of places around the world such as Haiti, Somalia or Burma.
Applications for asylum and refugee status are rife with fraud and abuse – a simple scan of ICE's news feed will reveal multiple enforcement actions where such schemes are hatched and carried out. Again, these are merely the stories that we hear about.
When you add up the number of asylum-seekers and refugees that the US takes in from the panoply of disasters around the world over the course of decades, the numbers become pretty striking in and of themselves. Note within that link the graphic discussing the number of asylees and refugees who converted their temporary status into legal permanent resident status over time – not a massive number, but curious nonetheless for the fact that so many of these people have simply stayed, rather than go home. This isn't to say that all of these people have come here in an unjust or dishonest fashion – it is to say that their means of arrival are decidedly not premised upon the notion that their presence should improve the lot of our nation and its citizens.
This raises the appropriate question of what the United States's policies with regard to displaced and persecuted people ought to be. The most famous case that many people are familiar with is that of the St. Louis, where over 900 people (mainly Jewish) seeking asylum from Nazi Germany were turned away in 1942. It isn't overstating the case to call this situation "monstrous." The Roosevelt State department knew very well the fate which awaited those people upon their return to Germany, where the death camps beckoned.
Fortunately, Nazi or Soviet-style evils are considerably rarer in today's age, and the black mark of that failure of moral temperament should not mean that we have to compensate for it in perpetuity with make-up calls and mea culpas.
The ideal number of refugees America should accept today is fairly close to "Zero," barring some truly extraordinary circumstances. There are many reasons for this including the fact that resettling refugees in places much closer to their homelands is considerably cheaper than resettling them here, and that location adds to the likelihood that they will ultimately return home after the crisis in their nation is over.
In this day and age, America should only accept refugee or asylum requests from those who have a genuine claim of persecution at the hands of their home government — a person like Liu Xiaobo comes immediately to mind — as a means of shaming our geopolitical adversaries by highlighting their crimes. This is the aspect of improving "moral capital" which I mentioned earlier.
Speaking of programs which neither improve moral or economic capital, The Diversity Visa Lottery is a truly bizarre program crafted with no eye towards economic development whatsoever. It should be scrapped immediately and with prejudice. Several Diversity Lottery Visa all-stars are famous names like "Omar Mateen" and "Sayfullo Saipov."
I've gone on at length here about these programs and how they're abused, but the reality of the situation is that these programs are romper room in comparison to illegal immigration in the forms of visa overstays and illicit border-crossings. DHS estimates that there were some 12 million illegal immigrants in the United States in 2014.
In reality, the only means by which the US will ever get its arms around such a massive problem is by attacking it at the well-head; by that, I mean at the place of employment. Various studies of employment verification have revealed that some 6.5 million Social Security numbers of people who would now be 115 years old or older are currently active. By that, I mean that people are either using the SSNs of these extremely old (and presumably dead) people to either conduct banking or pay payroll taxes. Simply getting a system in place which biometrically ties a person to their SSN alongside E-Verify would weed out those who are illegally using those numbers now and mostly put an end to illegal presence in this country by cutting them off from work – be they visa over-stayers or border-jumpers.
You might ask: why am I so insistent that we severely restrict low-skill immigration? Again, I'll quote Reihan Salam's "Melting Pot or Civil War?":
NAS (the National Academy of Sciences) found vastly different net present value flows for immigrant groups depending on educational attainment. The average immigrant with less than a high school degree can be expected to cost $115,000 over a seventy-five-year period. That immigrant's descendants, if they also have less than a high school diploma will cost $70,000. Meanwhile, the net contribution of an immigrant with a bachelor's degree is $210,000, with descendants making net contributions of $42,000, assuming they also have bachelor's degrees. (pp 55)
And:
The NAS Study projects that of the children of foreign-born parents with less than a high school education, only 6.2% will graduate from college. Low incomes in one generation risk extending to the next.
It is beyond obvious that low-skill immigration not only has disproportionately negative impacts upon low-skill Americans in the form of depressing wages, but it is also the case that the prospects of future generations of low-skilled immigrants are not positive either. There is no reason for our nation to "lose money on the unit price" for immigrants and try to "make it up in bulk."
Throughout the crafting of this piece, I've tried to remain as neutral and fact-based as possible. I've tried to employ statistics in marshaling the argument that while immigration can serve a positive economic role for this nation, it is nonetheless not a free lunch. The costs of immigration (particularly illegal immigration) are diffused across a wide spectrum of people who bear an asymmetric share of them, while an equally asymmetric share of the benefits accrue to those immigrants and those in search of marginally cheaper labor. This is the classic definition of a Concentrated/Diffused interest problem in economics, whereby a relatively small, but highly interested group of people are able to free-ride via spreading the costs of consuming a set of rivalrous public goods across a separate, yet relatively less-interested group.
The trouble is that the costs ultimately come due, and they emerge in the form of bifurcated communities and lower levels of public trust. We, as a nation, must wrestle and come to grips with the notion that even though we rightly consider ourselves to be a land of opportunity, there is nonetheless nothing magical about our dirt.
The secret sauce that has made America into the titan that it is has come largely in the form of improvements to human capital. Our immigration policy should reflect that reality, and the reality that unless responsible people tackle the question of immigration, irresponsible ones will ultimately fill that role.
Let us hope we choose responsibility.